Classic Film Series To Show "Gandhi" Jan. 22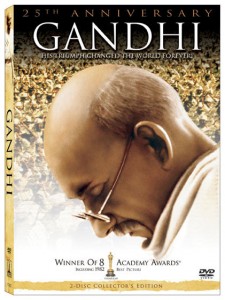 The film "Gandhi" will be shown on Saturday, Jan. 22 at 6:30 p.m. in Wharton Auditorium. The film is being presented as part of the Classic Film Series sponsored by Southwestern's Communication Department.
"Gandhi is a 1982 biographical film based on the life of Mahatma Gandhi, who led the nonviolent resistance movement against British colonial rule in India during the first half of the 20th century. The film was directed by Richard Attenborough and stars Ben Kingsley as Gandhi. They both won Academy Awards for their work on the film. The film was also given the Academy Award for Best Picture and won eight Academy Awards in total.
The film is being presented free to the public.
Southwestern Adventist University will hold another presentation in the continuing Saxon Lecture Series in the Mabee Center at 4 p.m. tomorrow. Guest speaker Dr. John Sandford, will present, "New Genetic
To formally welcome new president Dr. Ken Shaw, Southwestern Adventist University held a two-day inaugural celebration last week that stirred up quite the excitement among students around campus. The events
Susan Gardner, Susan Grady and Islem Mattey were named by Southwestern Adventist University as recipients of this year's Extra Mile Awards.