Art Scholar To Lecture on Feb. 17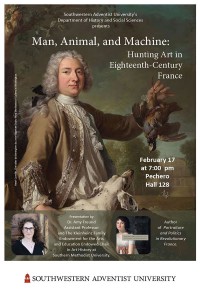 Southwestern Adventist University Department of History and Social Sciences will host a lecture entitled "Man, Animal, and Machine: Hunting Art in Eighteenth-Century France," on Tuesday, Feb. 17. It will be presented by Dr. Amy Freund, chair in art history at Southern Methodist University in Dallas.
Freund is a specialist on eighteenth-century French art. This presentation will be on the heels of her recently published book, Portraiture and Politics in Revolutionary France.
"Hosting a great speaker like Freund provides my students with the opportunity to hear from a renowned scholar," says Chloe Northrop, professor of history at Southwestern Adventist University. "Not only does it benefit my students, it can also benefit the larger community in that they will learn new things about France from that time period."
This is a free event and is open to the public. It will start at 7 p.m. and will take place in Pechero Hall room 128.
Twenty-nine Southwestern Adventist University students recently traveled to the Enactus Regional competition and job fair in Dallas. The competitions are challenging, team-oriented events that create a sense of accountability and
John McVay, president of Walla Walla University in Walla Walla, Washington, spoke for Southwestern Adventist University's annual convocation ceremony on Thursday, Aug. 3.  Held at the Keene Seventh-day Adventist Church,