Keene Resident Chosen to Donate Bone Marrow
Matthew Howerton, Keene resident and friend of Southwestern Adventist University, is one of two community members to be chosen to donate bone marrow as part of the DKMS Delete Blood Cancer initiative. He will be leaving in April to undertake what he says is a noble and humbling quest.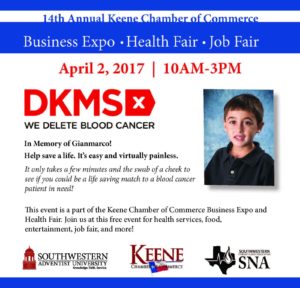 "When I first received the call that a match had been found, it was a very heavy experience, but the opportunity to save a life is more than worth it," he says.
Howerton registered as a donor last year when Southwestern's nursing department held a marrow drive for bone cancer. The drive was held in honor of Gianmarco Vergel, the late son of Alfredo and Sonia Vergel, two SWAU faculty members. Gianmarco passed away due to leukemia.
Dena Howerton, Matthew's mother and a former nursing professor, was instrumental in putting the project together. She had been very close to the Vergel family, and wanted to do all she could to make sure that that no other family had to endure the pain of losing a loved one to cancer.
"It is very rare that matches are found, so it's really amazing that we had two from the same area," she says. "And the thing is, a lot of people who register don't end up donating. They're afraid of the procedure or they back out at the last second."
"To see your child flourish…to see your child make a decision to save a life and being selfless…warms my heart like no other."
The nursing department will hold another marrow drive on Sunday, April 2, as part of their second annual Health and Job Fair. Sonia Vergel, Gianmarco's mother, talked about what this drive means to her and the need for more diversity in donors.
"There are plenty of Caucasian donors, but more of the people with this type of cancer are African-American and Hispanic. There needs to be more diversity represented in the process to find better matches." According to Vergel, their goal is to double the over 130 names of registered donors they received last year.
Kailani Stowell, sophomore nursing major, works with Christopher Rosado, junior physical education major, as they practice their moves on the mat. Stowell and Rosado practice their routine about 3 1/2
(edited by Jalen Wells and Brianna LeBlanc) Caleb Minett is an EMT fire fighter who is graduating with the class of 2018 from Southwestern Adventist University with an associate in
Students, faculty, staff, and friends of Southwestern have the opportunity to spread Christmas cheer this weekend at "Intersection" outreach.  The group will visit homeless shelters, praying and handing out gifts,