Students Are Invited to University Church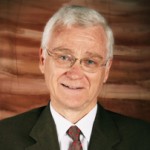 Dear Students:
Good things are happening just off campus at the Keene Seventh-day Adventist Church. I invite you to join me in worship there tomorrow.
The Keene Church is very much a "university church." Almost the whole congregation is made up of people with Southwestern connections—from current students and faculty to graduates and retired teachers.
The last two weeks have been wonderful. Our University choir and wind symphony have glorified God in music, staff members have led us in prayer, and Pastor Mic Thurber has preached carefully crafted, thought-provoking sermons.
Over the next few months, expect to be richly blessed as the plans laid by the Keene pastoral staff and our University Spiritual Development office are implemented.
God is calling you to the holy ground right here in Keene.
Cordially,
Eric Anderson
President
Students who return to classes in a couple of months will be surprised with a missing building, as well as some positive additions. The storage building between the radio station
Southwestern Adventist University's Department of Communication wrapped up its second annual 48-Hour Film Challenge with an award ceremony for the participating high school students on Saturday night, March 25. This
Do you want more input into social events at Southwestern? Maybe you've always wanted the opportunity to share your creative ideas for students. Why not submit your name for consideration