Students Are Invited to University Church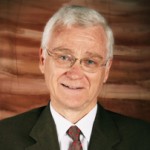 Dear Students:
Good things are happening just off campus at the Keene Seventh-day Adventist Church. I invite you to join me in worship there tomorrow.
The Keene Church is very much a "university church." Almost the whole congregation is made up of people with Southwestern connections—from current students and faculty to graduates and retired teachers.
The last two weeks have been wonderful. Our University choir and wind symphony have glorified God in music, staff members have led us in prayer, and Pastor Mic Thurber has preached carefully crafted, thought-provoking sermons.
Over the next few months, expect to be richly blessed as the plans laid by the Keene pastoral staff and our University Spiritual Development office are implemented.
God is calling you to the holy ground right here in Keene.
Cordially,
Eric Anderson
President
New businesspeople from the Cleburne area listen and watch as chemistry major Carolina Cabra explains what goes on in the Bone Lab in Scales Hall. The people from Cleburne were
Saturday Jan. 28 marked the end of Southwestern's 22nd annual Hoops Classic. This year's event drew 48 teams from all over the United States and Puerto Rico. Each team displayed
This weekend's spiritual events include vespers, afterglow, Sabbath school, church, inreach & outreach, vespers concert, and a Young Adult Festival of Worship. Friday night worship will begin at 8 p.m.