Hoops Dreams: the People Behind the Scenes Who Make It Happen
Southwestern students, faculty and staff all know and love Hoops Classic and what it represents. But does anyone know what makes Hoops Classic possible? What happens behind the scenes? How it operates? Who and what people must do to make Hoops Classic fun for everyone?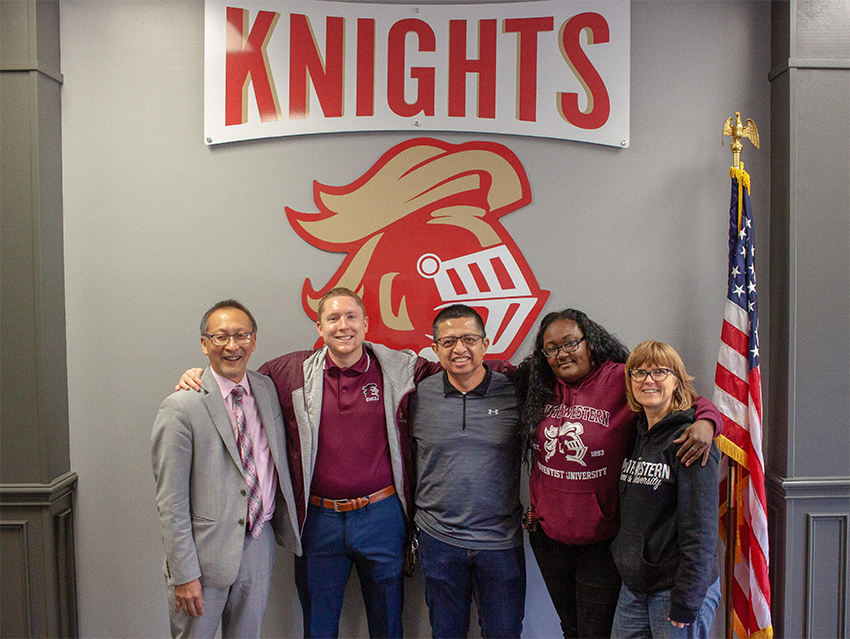 This article is intended to share a different perspective about Hoops Classic. Here's a look at the people who help make Hoops Classic fun and enjoyable for everyone.
In enrollment, Tina Bottsford and her team start the process. They're the ones who reach out to the schools, organize who is coming, payments, transportation, food on campus, T-shirts and all the things needed to prepare players before they get here.
"I communicate with the coaches before they come, and the rest is on Dean The's side," Bottsford explains. When the teams are here, enrollment mostly focuses on taking pictures, handing out T-shirts and giving tours of campus.
James The, vice president for student services, has been working at SWAU for 19 years. For almost 15 years he has coordinated Hoops Classic. Before he had this position, enrollment and the former VP did everything for Hoops Classic. Dean The and his staff members work hard to coordinate the scheduling. Dean The states that they work closely with enrollment.
After that they take care of the basketball part of it, including the scheduling, gymnasium venue, and bracketing. Their main focus is the basketball side of things. Once the teams arrive and the games begin, Dean The and his crew stay in the gym and use it as their hub. They stay in the gym to oversee the games and making sure the brackets are in line for the tournament portion.
Coach Tyler Wooldridge takes care of the MVP portion. Decisions regarding the scholarship involve a coordination effort including student services, student finance and enrollment.
According to Dean The, their first and foremost goal for Hoops Classic is to let high schoolers come to campus and learn about Southwestern and encourage the students to come to SWAU. Dean The states that the job of everyone behind the Classic is to help these perspective students become actual SWAU students.
As hectic as it gets, Dean The and his crew don't have many problems with Hoops Classic. "The only difficulty is having to say no to certain schools because we don't have enough room," he says.
However, they have many successes too, such as helping out the students who want to come to school here for reasons other than just athletics. After all the years he worked for Hoops Classic, it makes Dean The happiest to see the parents and families come back every year to be a part of and support Hoops Classic.
Wooldridge is in charge of the SWAU gym. Coach Tyler have been helping out and working for Hoops Classic for about five years. He works closely with Dean The by helping coordinate and organizing the games in the gym.
"There is some stress with the set up and tear downs and ever-changing aspect of it and that's what makes it a challenge," says Wooldridge. Other than that, it's not something he can't handle. It makes him happy to see everyone enjoying the games and having fun. He sees it more on Saturday nights, when the atmosphere becomes more intense.
Alan Briones is the student worker who assists Wooldridge and has helped out with Hoops for two years. He loves basketball and watching the games, however working for it can be stressful. He works the scoreboard, nightshift and gym shift (which is clean up, maintaining the gym and closing the gym). He especially enjoys Hoops Classic because he gets to see all his friends and his former school and competitors.
Juan Enriquez and his custodial team are also a big part of helping with Hoops Classic. They work all day in the gym cleaning and picking up after people and provide all our necessities. This year he didn't have enough student workers, so the gym workers and team venders helped clean the gym. The only challenges Enriquez and the custodial team sees is how late they must stay on Saturday nights.
Hoops Classic is mostly about the high schoolers and the exciting basketball games; but most people don't think about what really happens behind the scenes to make Hoops Classic happen each year. Without these people and many other staff members who make it possible, Hoops Classic wouldn't be as fun and enjoyable for everyone.
Rough Writers is the creative writing club on campus. The group meets on Thursdays at 5 p.m. to talk about creative writing, read through one of the member's manuscripts, or
Registration for Spring semester at Southwestern is open to students. Returning students may register at portal.swau.edu. New students may apply for Southwestern at http://www.swau.edu/. The first step is to meet with an
Southwestern Adventist University's computer science department, along with student services and student senators, planned and hosted a game night at Scales Hall on Saturday, April 9 during Senate Emphasis Week.