Music at the Mendenhalls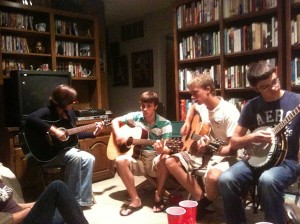 Liz Cortes, Denny James, Devin Grady and Matthew House joined others at the home of Bob and Bev Mendenhall for Communication Department Vespers Friday night. Students went to a variety of locations for department vespers, ranging from faculty homes to the duck pond.
Just because things don't work out the way you envisioned doesn't mean God doesn't have a plan. Just ask Alyssa Graves.
As nearly the first six weeks of the semester came to a close on the weekend of fall break, many students signed out of their dorm rooms and headed for
(Edited by Jaime Baldwin) Southwestern Adventist University's music department held its first student recital on Thursday night, Sept. 18. Southwestern is made up of hundreds of students who each have