Music at the Mendenhalls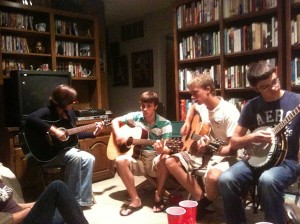 Liz Cortes, Denny James, Devin Grady and Matthew House joined others at the home of Bob and Bev Mendenhall for Communication Department Vespers Friday night. Students went to a variety of locations for department vespers, ranging from faculty homes to the duck pond.
The following poem won second place is the 2018 Creative Writing Contest at Southwestern Adventist University, and is shared here by request of our readers. Jubal There he goes The
She was a top model in Asia making lots of money. She had everything–and nothing.