Music at the Mendenhalls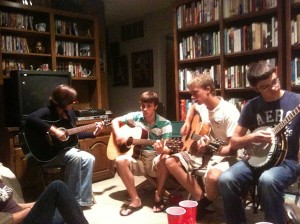 Liz Cortes, Denny James, Devin Grady and Matthew House joined others at the home of Bob and Bev Mendenhall for Communication Department Vespers Friday night. Students went to a variety of locations for department vespers, ranging from faculty homes to the duck pond.
Here is a multimedia assignment by Michael von Maltitz for Photojournalism. Enjoy. Share this:
Students and local church members gather together on Saturday afternoons for outreach in the community.  At Southwestern Adventist University, the first Saturday of each month is spent walking door to
Intent on being a top filmmaker, Devin Grady asked God to open His eyes to His will for Devin. And God did just that.