Art Exhibit Features Famous Composers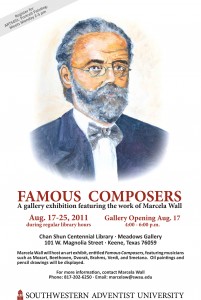 The world of art meets the world of music when Marcela Wall hosts a special on-campus art exhibit featuring famous musical composers.  The exhibit will take place at the Chan Shun Centennial Library during regular library hours. It will open on August 17 and be available until August 25.  A special Gallery opening is scheduled for Wednesday, Aug. 17 from 4 to 6 p.m.
The exhibit will include a wide range of both pencil drawings and oil paintings, all created by Marcela Wall.  Her artwork will feature musicians such as Mozart, Beethoven, Dvorak, Brahms, Verdi, and Smetana.  For those interested, she would also like to talk to you about joining her portrait painting class that meets on Mondays from 2 to 5 pm. For more information, e-mail Marcela Wall at: marcelaw@swau.edu, or call (817)-202-6250.
Not too long ago, I was a student missionary teacher in Palau. As an SM teacher, there isn't a lot of free time. There's always something that can be done.
For five months there has been only the whispers of distant broadcast signals, fading in and out of a frequency that for decades has been called ours. Then there was
The First-in-Family Scholarship was created to help students who are the first in their family to attend a college or university. This scholarship is funded by Southwestern's annual golf tournament