Art Exhibit Features Famous Composers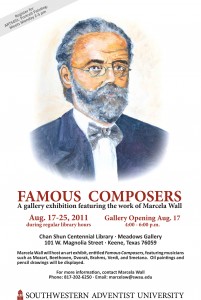 The world of art meets the world of music when Marcela Wall hosts a special on-campus art exhibit featuring famous musical composers.  The exhibit will take place at the Chan Shun Centennial Library during regular library hours. It will open on August 17 and be available until August 25.  A special Gallery opening is scheduled for Wednesday, Aug. 17 from 4 to 6 p.m.
The exhibit will include a wide range of both pencil drawings and oil paintings, all created by Marcela Wall.  Her artwork will feature musicians such as Mozart, Beethoven, Dvorak, Brahms, Verdi, and Smetana.  For those interested, she would also like to talk to you about joining her portrait painting class that meets on Mondays from 2 to 5 pm. For more information, e-mail Marcela Wall at: marcelaw@swau.edu, or call (817)-202-6250.
Spiritual Life and Development at Southwestern Adventist University is looking for volunteers to help in their various ministries. "We want students to get involved in their own spiritual life," said
Students who plan on graduating in December 2016, May 2017 or August 2017 must take the senior general education exit exam. This exam is available at two times: Sunday, October
Cycling to from Dallas to San Antonio next summer was a recent decision the Southwest Region Conference of Seventh-Day Adventist executives voted on. The Tour de Youth cycling event will