Volleyball, Soccer Games Set for This Week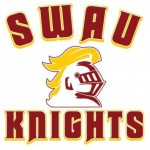 The volleyball team will be hitting the road today for a game against Richland College. You are invited to come and support the team.  They leave at 4:45 p.m. from the Leiske-Pultar Gymnasium.  Feel free to bring your car and follow the bus to Richland.
Here are other volleyball and soccer games going on this week:
On Thursday, Sept. 1, Southwestern volleyball team against the Mountain View team. Bus leaves the gymnasium at 1:30 pm.
On Friday, Sept. 2, the Southwestern soccer team is also playing Mountain View.  The bus will leave at 1:45 pm.
Lady Knights Volleyball The Lady Knights travel to Eastfield College Thursday for a match at 7 p.m. Lady Knights Basketball The Lady Knights open the season this Saturday night here