Twelfth Night Opens Thursday at 8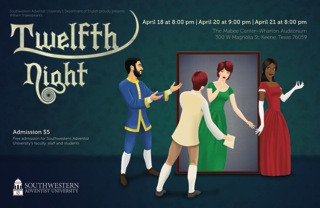 Southwestern Adventist University's English Department presents Shakespeare's Twelfth Night.
Directed by English Professor Renard Doneskey, with cast and support provided by Southwestern students and faculty, the play will be sure to entertain with its tangled web of egos, deception, and lovesick hilarity.
The play will be presented three times in Wharton Auditorium on the corner of Old Betsy and Magnolia Street:
Thursday, April 18 at 8 p.m.
Saturday, April 20 at 9 p.m.
Sunday, April 21 at 8 p.m.
Tickets are $5 and may be reserved by calling 817-202-6629. Tickets will also be available at the box office a half hour before the play begins.
This weekend is departmental vespers. No program will be presented in the Keene Seventh-day Adventist Church. Here are the locations and times of specific departments. If your department is not
Southwestern Adventist University is proud to host An Evening with Artist Nathan Greene tomorrow evening. Greene will unveil his latest masterpiece called Living Waters at 6:30 p.m. followed by a
Evangelist Tim Roosenberg will present a seminar entitled "Islam and Christianity."  It will take place on Saturday, Feb. 11 from 3 to 6 p.m. in the Wharton Auditorium.  The seminar