Twelfth Night Opens Thursday at 8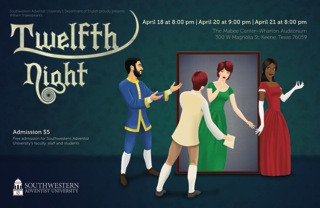 Southwestern Adventist University's English Department presents Shakespeare's Twelfth Night.
Directed by English Professor Renard Doneskey, with cast and support provided by Southwestern students and faculty, the play will be sure to entertain with its tangled web of egos, deception, and lovesick hilarity.
The play will be presented three times in Wharton Auditorium on the corner of Old Betsy and Magnolia Street:
Thursday, April 18 at 8 p.m.
Saturday, April 20 at 9 p.m.
Sunday, April 21 at 8 p.m.
Tickets are $5 and may be reserved by calling 817-202-6629. Tickets will also be available at the box office a half hour before the play begins.
Alumni, faculty, staff and families of Southwestern are invited to enjoy homemade ice cream with their former classmates, students, and teachers at Southwestern's Annual Ice Cream Social on Sunday, Sept.
(Edited by Brisa Ramirez) This month the Missions Club is sponsoring a project called Stamp Drive. This project started today Oct. 2 and will end Oct. 23. The club's goal
In high school, Jae-Min Park felt he wanted to be a doctor but wasn't sure if it was the right career for him. His parents inspired him to study medicine.