"The Way" Meets Wednesdays for Bible Study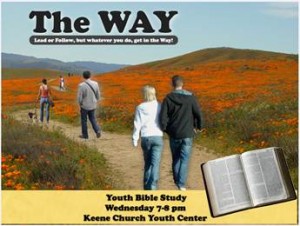 Lead, follow, but whatever you do, get in the way.
Southwestern students are invited to attend a weekly youth Bible study called "The Way."  The group meets every Wednesday at the Keene Seventh-day Adventist Church youth room from 7 to 8 p.m.  Worship credit and snacks are offered.
The youth room entrance is by the church parking lot behind the Hopps Museum. It's at the end of a long ramp between the Sabbath School annex and the chapel.
Channel 31 KGSW, the television station at Southwestern Adventist University, will be embarking on a new endeavor soon. On Wednesday, Oct. 6, the first episode of a brand-new, unique TV
January at Southwestern Adventist University signals an important event on campus. Southwestern's 18th Annual Hoops Classic, set for Jan. 23-27, will draw players from 44 teams across the United States
Southwestern Adventist University has a new school song. The new song was written by sophomore Avram Neal, who hopes it will unite the campus with love for Southwestern. The song