Student Overcomes Haiti Earthquake
Mario Michel experienced his first earthquake when he was in his early teens.  "I remember that I was doing homework and I just stared at the ceiling wondering if it was going to collapse on me," he says. That first one came in 2004, and Mario's father warned him to run straight out of the house if another earthquake ever came again. Mario grew up in Haiti. He survived one of the deadliest earthquakes on earth so far, and God used that to change his life by sending him to Southwestern Adventist University.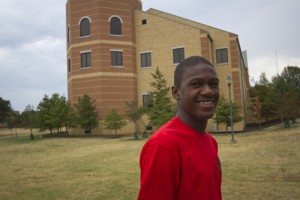 His life was changed on January 12, 2010 at 4:15 p.m. Mario was hungry. He had been upstairs for a long time, angry at his sister for taking his phone.  He went outside to try to get bread from a basket his mother had in the yard where she was working. Running downstairs, he heard his dad call his mom from another room.  Suddenly Mario heard a noise. Then the 7.0 magnitude earthquake knocked him to the ground. As soon as he could stand up, he ran to the house to help his mother.
According to Mario, this earthquake was very different than the one he experienced in 2004.  Rather than starting small and growing, the 2010 earthquake was large from the start, and very short.  Yet, in that small amount of time came endless destruction.   The worse part of the earthquake took place about 60 km away from Mario's home, in the city of Leogane, where his sister worked.  Eighty percent of the people there died.  The only reason his sister survived was that she had stepped out of her job at the hospital to go to the market. When she returned to her office after the earthquake, the entire floor where she would have been had completely collapsed.
Miraculously, Mario and his family all survived the devastation.  As the earthquake died down, all he could see was white dust and rocks. All he could hear was people crying.  Everything was lost. The house was completely demolished, and their belongings destroyed.  That night was the first time Mario had ever slept on the street. It was very dangerous. People everywhere were stealing what they could find from the rubble.  Throughout the night, the men in Mario's family took turns guarding their house from thieves. "It was very exciting, but also scary," he says now. "In the distance I could hear gunshots, but all I had to protect my home and my family was a hammer."
That was when Mario's mother decided it was time for her children to go to the United States.  As a foreign exchange student at a public school in Texas, it was difficult for Mario to keep track of things.  His lack of English acted as a barrier, made testing very difficult and homework assignments tedious.  Mario had been baptized a Seventh-day Adventist when he was 16, but every day spent away from a spiritual influence made it difficult to stay true to his faith. Over time he grew distracted away from reading the Bible, and didn't think much about religion.  God had become a mere shadow in Mario's life, a thing without substance.
Starting as a student at Southwestern in the fall of 2010, Mario found that the school's routine helped him get back on his spiritual track.  Mario never intended to go to Southwestern, but God had different plans than him.  Every day that he learns in his math and business classes, he also learns about God through his teachers and even his classmates.  "The difference between Keene and Haiti is willingness to help. When you fall down in Haiti, people laugh at you and walk over you. Here they help you up and ask you if you are OK. At Southwestern you can always find someone to help you, even if you don't know anybody on campus."
One of Mario's favorite teachers is Dr. Murray Cox, because he is always willing to help, and because he teaches "the best subject ever: math."  Mario takes that helpful attitude with him when he tutors himself.  The one thing he will never do, he says, is charge someone money to tutor.   "Tutoring is just not something that people should have to pay for, but I will never be a teacher." He doesn't want to teach students that don't want to learn, that would only make him angry.  Instead, Mario plans on being an accountant after he graduates.
After all the hardships that Mario had been through, one thing always remains the same: his joyful attitude. Mario laughs as he says that he is just a smiley person.  He can remember his parents asking him why he smiles so much. "It's just a part of who I am. Smiling runs in my blood."  When Mario first moved on campus, he was surprised at all the smiling faces that met him. In Haiti, he was used to being ignored by people he didn't know. Now it seems like everyone is saying hi.
Mario is a regular at Wednesday night Bible studies and Friday night vespers on campus. He enjoys them because they keep him on his spiritual walk and help him grow in Christ.   If ever he finds himself at a different college, Mario says he will probably still come to Southwestern for the evening vespers.  Every Saturday morning, Mario attends the Keene Spanish Church. Spanish is his fourth language, his first being his native tongue: Quell, as well as French and English.
Thinking back on his life, Mario admits that it's crazy the things he has been through. "I feel sad when I think about some of my friends that died. In fact I feel like it's a miracle that my family even survived. God is watching out for me."  As Mario enters his sophomore year at Southwestern Adventist University, he looks forward to learning everything he can about God.
From living through the World Trade Center collapsing in New York and surviving an illness that is going to be with him for the rest of his life, computer science
Andrew Austin shares a behind-the-scenes look at the people who make audiovisual work on campus. Share this: