Student Missions Hosts Pancake Breakfast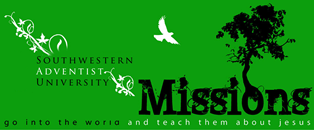 The Spiritual Life and Development office and the Student Missions Club will sponsor a pancake breakfast to raise funds for student missions on Sunday, April 14. The event will be held in the Student Center from 8:30 to 10:30 a.m.
Food donations are welcome and can be dropped off at the Spiritual Life and Development office by Thursday, April 11. The following supplies are needed: eggs, pancake mix, applesauce, a variety of syrups, peanut butter, orange and apple juice, and breakfast links. 
Southwestern's music department will host a student recital tomorrow evening in the Wharton Auditorium at 7. The recital will feature both voice and instrumental with a mix of different genres.
Assembly today will be held in the Keene SDA Church at 1 p.m. The speaker will be Pastor Armando Miranda. Miranda is the new Associate Youth and Young Adult Director
After discussing what Southwestern Adventist University is known for with several faculty and staff, Dr. Ken Shaw, new university president, concluded that the answer was unclear. In order to improve