Southwestern to Host Napoleon and America Talk
Southwest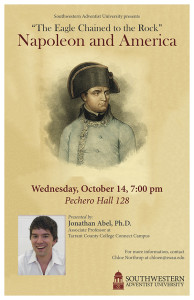 ern Adventist University will host "The Eagle Chained to the Rock: Napoleon and America," a talk presented by Dr. Jonathan Abel, associate professor at Tarrant County College Connect Campus on Wednesday, Oct. 14 at 7 p.m. in Pechero Hall room 128.
In his talk, Dr. Abel will discuss the vital role that Napoleon and the Napoleonic myth played in the culture and life of early America. The talk will also include the traditional friendship between America and France, Napoleon's nature as the "God of War," his influence on the French and French-descended people of America and how that mythology became a fundamental part of America's culture, particular its military culture.
The lecture is free and open to the public.
The University Student Center is up and running. Students are welcome to come at the above mentioned hours. There is a pool table, ping pong, air hockey, plenty of seating
November 10 to 15 will be Missions Emphasis Week at Southwestern. Missions Club is planning the week with a purpose is to increase awareness of the student missionaries who are