Southwestern Offers Eagle Scout Scholarship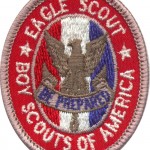 Southwestern Adventist University is offering free tuition for four years to one selected Johnson County Eagle Scout.  "We are looking for exemplary leaders," says University President Eric Anderson.  "Quite simply, we are impressed with the Scouting movement and its record of producing leaders."
The scholarship is worth approximately $66,000.  The winner must live in a University dormitory on the Keene campus of Southwestern.
Any Johnson County Eagle Scout who meets the following requirements is eligible to apply for this scholarship:
1.      He must provide two appropriate recommendations (from a troop leader, teacher, pastor, or community leader).
2.       He must have a cumulative high school grade point average of at least 3.0;
3.       He must have SAT scores of at least 620 in critical reading and 640 in mathematics.
He must write an articulate and persuasive essay on "My Hero."
For more information, contact the enrollment office at Southwestern at (817) 202-6294.
Apathy. It's the feeling you get when you're no longer excited about that package you ordered in the mail two weeks ago, or when you've stopped caring what they serve
Applications and $100 deposits for the Navajo Mission Trip need to be turned in by Tues. Jan. 28. The Mission Trip takes place during Spring Break. Applications can be turned
The world of art meets the world of music when Marcela Wall hosts a special on-campus art exhibit featuring famous musical composers.  The exhibit will take place at the Chan