God Provided!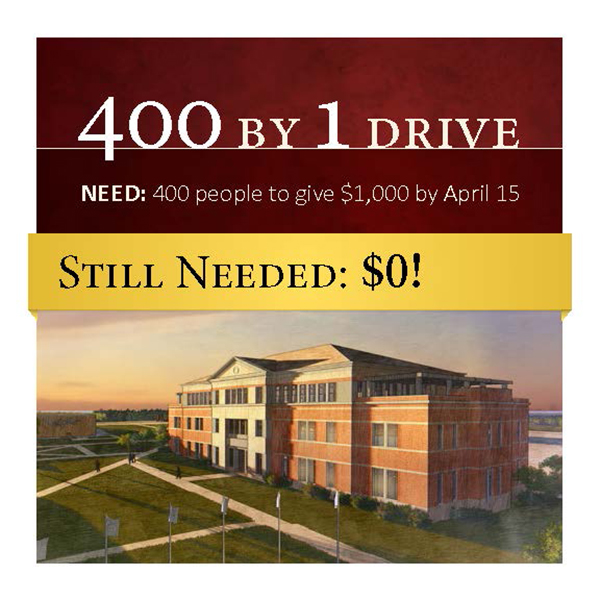 Good afternoon Alumni,
God has provided! Our CFO, Joel Wallace, officially shared with me that our total is
Southwestern Adventist University has been blessed by our family of alumni, faculty, staff, and many wonderful friends.  What miracles we have witnessed from when our Building Fund total was $3,800,000 just three weeks ago today! We prayed that God would provide and through your support the Lord has worked a miracle, raising over $4,200,000 in those three weeks.  God is so good!!
I am grateful for the many prayers and the hundreds of gifts that have helped us reach $8,000,000 by today to meet the Mabee Foundation challenge deadline.  With this overwhelming support we have met the conditions of the challenge and will receive another $1,000,000 to our Building Fund making our balance $9,035,390. We are now 90% of the way towards our $10,000,000 goal.
We are awed and humbled by your support and by God's bountiful blessings. Please accept our sincerest thanks and enjoy this video (click here).
Most sincerely,
Ken Shaw, Ed.D.
President
Most students don't take their financial health into consideration until their debts and loan payback are staring them in the face. Students don't often get the chance to learn
Once every six months, Southwestern Adventist University's radio station, 88.3 The Journey, holds its Sharathon fundraising event. Conducted so that the station may be able to raise the necessary funds