Southwestern Leads in Adoption of Floorball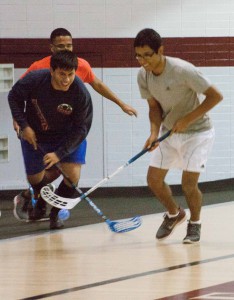 Southwestern Adventist University is ahead of the game, the floorball game to be specific. Floorball is a sport comparable to floor hockey. It's quickly gaining popularity in the United States.
"This was our third year to host the Southwest U.S. Floorball Championship Tournament," says Vesa Naukkarinen, chair of the kinesiology department. "The sport is growing, but it's not very big in the United States yet. As far as I know, no other university in the U.S. has organized floorball."
Floorball is safe, low-cost, and easy to teach and learn. It's less aggressive than hockey, so it works great for co-ed play. Emphasis is on speed, skill and technique rather than physical strength.
This year, six floorball teams competed in the tournament. The sport is becoming a big deal, especially in cities such as Dallas and Austin. Even the NHL's Dallas Stars have recognized floorball and have recently started a fitness initiative in area schools that includes floorball.
"I grew up playing floorball in Europe," says Naukkarinen. "Then when I taught it at Washington Adventist University it was successful, so I knew from experience that people would be interested here too. What I wasn't aware of was that there is a floorball store in Fort Worth and groups that play the sport regularly in the DFW area."
Other than the tournament, Southwestern also offers a floorball class during fall semesters. In addition, every Sunday morning students play for fun, as well as teach elementary and middle school students the sport. The floorball intramural program is huge this year with eight teams and 86 players playing.
"It's just so much fun to play," says Naukkarinen. "I look forward to seeing it grow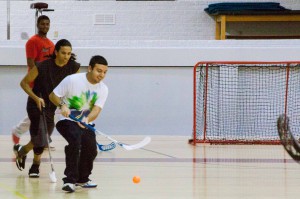 in other schools as well."
The world floorball championships are an annual event played since 1996,and the U.S. participates as well. The International Floorball Federation has 55 member countries and hopes that floorball will become a part of the 2020 Summer Olympics.
Already widespread in countries such as Czech Republic, Finland, Sweden, Norway and Switzerland, floorball promises to someday be a favorite sport here in the United States.
Jonathan Armstrong has learned that it does not matter what his future career will be, as long as he does something that he loves.
Indiana Melendez, sophomore communication major, and her date, Gabriel Larriu, a junior (major unknown), take a moment to smile for a picture. Indiana and Gabriel enjoyed each other's company at
Ingo Sorke didn't have to choose between becoming a pastor or teacher. For him, the answer was yes to both.