New Painting Reflects Christian Values in Business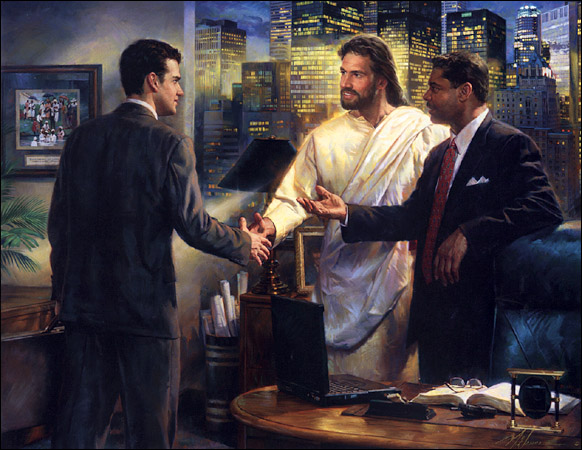 "Jesus is a senior partner in anything that we're going to teach you here at Southwestern," says Fred Harder, chair of Southwestern's business administration department. As part of new decor in the department offices, a new painting entitled "The Senior Partner" depicts a businessman introducing his partner to Jesus. The image hangs prominently on the wall to the right of the new electronic display in the department lobby, and was paid for by a group donation by the department faculty. Presenting this piece conveys Christian principles and values, according to Harder, a goal he hopes to accomplish by hanging the painting in the offices.
"In all thy ways acknowledge Him, and He shall direct your paths," says Proverbs 3:6. In this painting, artist Nathan Greene acknowledges the importance of involving Christ in the professional arena.
Greene grew up in Michigan and attended Chicago's historic American Academy of Art where the art principles akin to the illustrators he so admired were taught. Greene soon began an illustration career for both secular and inspirational publishers in Chicago, the East Coast, and the western United States.
His skill and reputation grew as he worked his way up to 50-60 illustration commissions annually. In 1990, the Versacare Corporation approached the aging master painter Harry Anderson about doing two sizable painting commissions. "I'm retired," said Anderson. He recommended Greene for the job and the resulting "Family of God" and "Chief of the Medical Staff" remain two of Greene's most popular images in print format. "The Senior Partner" continues his pervasive theme of including Jesus in all areas of life and career.
For more information about Greene and his paintings visit www.nathangreene.com.
Southwestern Adventist University's seventh annual Creative Writing Contest presents the opportunity for students to share their creative writing skills and possibly even earn money for it. Sponsored by The Rough
Student Missions has announced that the week of Nov. 8 to 13 will be set aside as Missions Week at Southwestern Adventist University. Monday, Nov. 8 will begin with Penny
"The Love of the Guardian" is a dramatic, two-part, allegorical production that showcases the love of Christ. It was performed this summer at Nameless Valley Ranch summer camp, and is