Much Ado About Nothing Set for April 16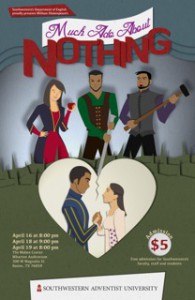 Southwestern Adventist University's annual spring play will feature one of Shakespeare's greatest plays, Much Ado About Nothing. It is directed by Dr. Renard Doneskey and will feature Southwestern students as the performers of the play.
Much Ado About Nothing displays some of Shakespeare's most clever and witty dialogue with characters that are charming as well as villainy.  The play is set in Messina, a port on the island of Sicily, which is next to the toe of Italy.
The spring play will have three performances: April 16 at 8 p.m., April 18 at 9 p.m., and April 19 at 8 p.m. Admission for the play is $5. Southwestern students and faculty get in free. Much Ado About Nothing will be presented in Wharton Auditorium at 300 W. Magnolia St. in Keene.
Southwestern Adventist University will hold this year's first Week of Prayer Oct. 20-24 presented by Ivor Myers, a guest speaker with a heart-changing story. Twice every year, the Spiritual
Southwestern Adventist University Department of Spiritual Development is making plans for a Navajo Mission Trip over Spring Break Thursday, March 10 through Sunday, March 20. " We need students and
If you are a burgeoning poet, short story writer, or novelist, I recommend to you The Rough Writers. Southwestern Adventist University has its very own campus creative writing group. Though