Missions Opportunities Are Posted
Spiritual Life and Development at Southwestern Adventist University is looking for students who are interested in mission work in Egypt, Indonesia and the Cook Islands.  Seventh-day Adventist schools in those areas are in need of students willing to work hard and follow God's ca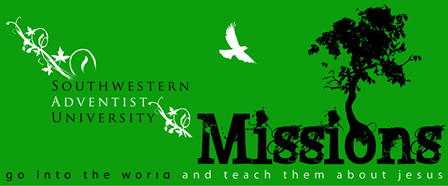 ll.
The Nile Union Academy in Egypt needs a math teacher, ESL and English teacher, head math teach, computer teacher and information technology manager, history teacher, PE teacher and worship leader.
Adventist English Conversation School in Indonesia is looking for an ESL teacher.  Indonesia Adventist University needs an English teacher and Sekolah Makarios, another school in Indonesia, is looking for an English teacher from grades four through nine and a pre-K and Kindergarten teacher.
In the Cook Islands, Papaaroa Adventist School needs math and science teachers.
If you are interested in being a student missionary in one of these places, or just have general questions, email studentmissions@swau.edu or call Blanca Zuazua, student missions director, at 817-526-8341.
If you are a burgeoning poet, short story writer, or novelist, I recommend to you The Rough Writers. Southwestern Adventist University has its very own campus creative writing group. Though
The future is scary. No one knows what will happen and how life will play out. But it's always wise to take some precautionary measures and prepare yourself for anything