Missions Opportunities Are Posted
Spiritual Life and Development at Southwestern Adventist University is looking for students who are interested in mission work in Egypt, Indonesia and the Cook Islands.  Seventh-day Adventist schools in those areas are in need of students willing to work hard and follow God's ca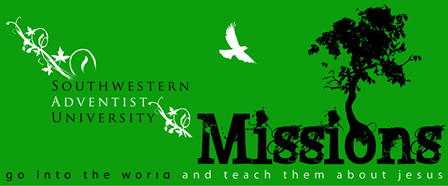 ll.
The Nile Union Academy in Egypt needs a math teacher, ESL and English teacher, head math teach, computer teacher and information technology manager, history teacher, PE teacher and worship leader.
Adventist English Conversation School in Indonesia is looking for an ESL teacher.  Indonesia Adventist University needs an English teacher and Sekolah Makarios, another school in Indonesia, is looking for an English teacher from grades four through nine and a pre-K and Kindergarten teacher.
In the Cook Islands, Papaaroa Adventist School needs math and science teachers.
If you are interested in being a student missionary in one of these places, or just have general questions, email studentmissions@swau.edu or call Blanca Zuazua, student missions director, at 817-526-8341.
Twenty-seven faculty and staff were honored for their service to the University and its students at Southwestern's annual Awards Dinner, held on Thursday, Aug. 9 at the Petroleum Club in
This year's Saxon Lecture Series on the campus of Southwestern Adventist University will begin Saturday, September 3 with C. S. Lewis scholar Louis Markos. Markos is a professor in English
James The now serves as Southwestern's new Dean of Students.