Homeless Art Show Scheduled for Oct. 12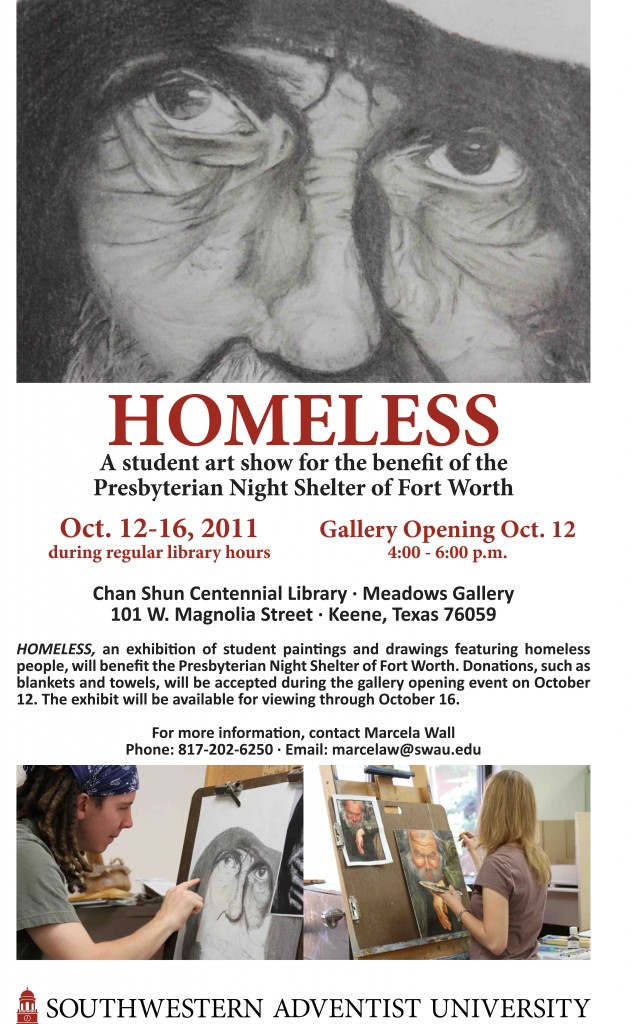 A student art show called "Homeless" will be on display on campus beginning Oct. 12 for the benefit of the Presbyterian Night Shelter of Fort Worth.  Artwork will depict different faces of homeless people. The goal is to raise people's awareness of homelessness, and to tell them what they can do to help.  During this exhibit, people are encouraged to bring twin-sized bed sheets and towels to donate to the shelter.
The exhibit will be on display at the Chan Shun Centennial Library in the Meadows Gallery.  The gallery opening is on October 12 from 4 to 6 p.m.  Erin Lynch, a representative of the Presbyterian Night Shelter, will be there to answer any questions about the shelter, or about homelessness.  The exhibit will be available for viewing from October 12 to 16.
Southwestern's Leiske-Pultar Gymnasium received an upgrade this summer in the form of a new gym floor. The gym is a multi-purpose venue where many activities take place such as exercising,
"Thrive: A Weekend of Spiritual Empowerment" starts this Friday, Sept. 7 at 8 p.m. Men meet at Wharton Auditorium and Women meet at Chan Shun Centennial Library. The featured speakers
This weekend offers many spiritual events including vespers, afterglow, church, outreach, evensong, and a farewell gathering. Friday night worship will feature the Literature Evangelism Team. It will be held in