Graduation Weekend Nears, Activities Are Lined Up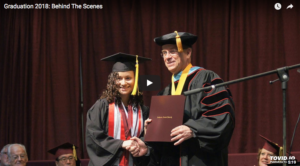 Graduation weekend at Southwestern Adventist University is scheduled for Friday, May 4 until Sunday, May 6. Friends and family are invited to help celebrate their graduate's journey. Seniors will receive their diplomas from the University and their respective departments.
Southwestern Adventist University is making six tickets available to each graduate. Limited space is available, with other friends and family being seated in other locations.
On Friday night, friends and family are invited to attend a special vespers service featuring guest speaker Elder Keith Gray. A reception will follow.
Baccalaureate services on Saturday morning in the Leiske-Pultar Gymnasium will feature Dr. Bill Kilgore, retiring professor of religion and this year's Educator of the Year, as speaker.
On Sunday morning, the Commencement ceremony begins, featuring Chris Morris, youth pastor of the Burleson Seventh-Day Adventist Church. This is the day graduates have been eagerly awaiting, to acquire their diplomas, with friends and family present to congratulate the accomplishment of their graduate.
A graduating nursing major, Yenise Warner stated it best: "It's been a great four years and it hasn't been easy, but once you receive your diploma, it's all worth it."
Last semester the Reporting III class examined how effective the student association is in communicating with students at Southwestern Adventist University. And we found a general consensus that there was