SA Plans Bowling for Sunday
The Student Association will be hosting a bowling event on Sunday, Sept. 14. It is open to all students, faculty, and staff of Southwestern. Buses will be leaving from the library parking lot at 12:30 p.m. to provide transportation to the bowling alley.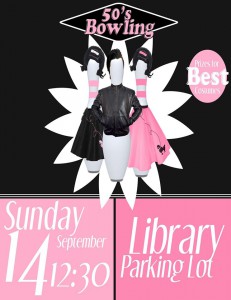 Students around campus are already expressing excitement about this event. Cecy Caraza, a sophomore education major, is looking forward to it because activities like this give her the opportunity to socialize with students she does not see on a regular basis.
"Sometimes I meet people in outreach or other activities but then don't really get to see them around after that," she says. During the week, she concentrates on classes and work, but during the weekend she enjoys the opportunity to take a break and go to whichever event is happening on campus.
While this is not the first year students have the option to go bowling with the school, this year will be a little bit different than in the past. Jonathen Blue, social vice president for the Student Association, has decided to have a 50s theme for this event. There will even be prizes for the best costumes and hair, so students are encouraged to come dressed in their best 50s attire.
"I felt like a 50s theme would get our student body right back into the 'swing' of things," Blue says. He wanted to bring the school back to the basics and felt that a 50's theme and bowling were the perfect combination to portray this.
Austen Powell, Student Association president, says, "I'm excited for some good old fashioned fun, and I hope to see everyone there." He is looking forward not only to this event but the other ones that the Student Association is planning for the 2014-15 school year.
The deadline to apply for the Navajo Mission Trip, which takes place over spring break, is this Wednesday, Dec. 7.  Students that attend the trip are taken to a Navajo
The University Christmas Concert and Reception originally scheduled for Cleburne Conference Center on Sunday night has been rescheduled for Tuesday, Dec. 10 at 7:30 p.m. The Cleburne Conference Center is
The sound of heavy equipment fills the air and surrounds students going to classes as construction continues in the middle of campus. The new outdoor theater, part of Southwestern's campus