Former Slacker Becomes Award-Winning Station Manager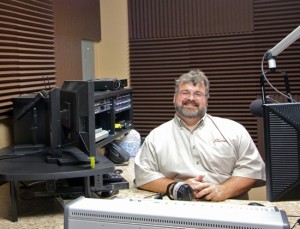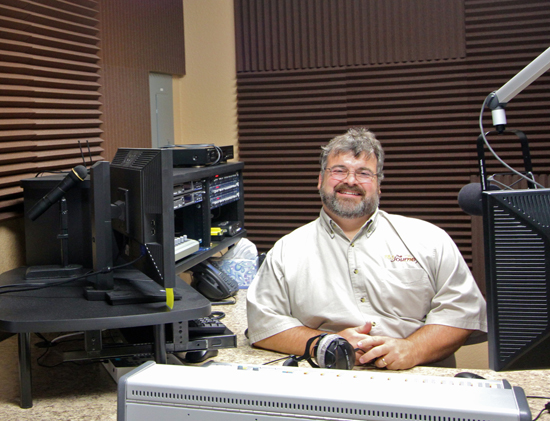 Hope for the student slacker can be found in a small building at a distant corner of the Southwestern Adventist University campus.
Mike Agee, general manager for the Southwestern radio station 88.3 The Journey, has had many great accomplishments during his career. Yet, he was not always the great achiever he is now.  His story is a reminder that it doesn't matter what you've been through, or how long you've slacked off, you can still be successful.
There were reasons for Agee's troublemaking attitude, but as he says, not excuses. "I was in-between step-dads," he says. "One day, after attending an evangelistic meeting, mom decided that the family should all get baptized. I agreed, not wanting to rock the boat. I didn't know that would mean moving from a public high school with 800 freshmen to an Adventist boarding academy with small classes. I felt like a prisoner, but I adjusted. Ozark Adventist Academy is where I discovered my love of music."
When it came time for college, Agee's first semester attending Southwestern Adventist University was less than spectacular.  It was a bit of a culture shock for Agee, coming from a sheltered academy to attend college where he was treated like an adult.
"I had a little bit too much freedom," he says. "I was being treated like a grown up, able to make decisions. Well I did, but frequently they didn't involve going to class, doing homework or showing up at the dorm by curfew."
Despite Agee's apathy, certain professors on campus took an interest in him.  Agee says that his relationship with professors Bob Mendenhall and Andrew Woolley helped shape his life. Agee's report card was a mess, but they believed that he could be good at whatever he wanted to do if he would just apply himself.
"I needed to make better decisions and focus on something other than myself," Agee says. "They taught me that I wasn't the center of the universe and that I could make myself into something."
By the end of Agee's freshmen year, his mentors and family made it abundantly clear that he needed to focus harder on academics.  For him, this meant actually going to class, and doing homework.  "When my uncle, who helped pay for my bills, absconded with the keys to my car, I became a much more dedicated student," Agee says.
As Agee strived to be a better student, he also went looking for a job.  He talked to Dr. Mendenhall and was able to work at KSUC, the Southwestern radio station then.   The only requirement was that Agee attend a class on broadcast announcing.  He soon realized that communication, rather than business, was what he wanted to do for the rest of his life.
The turning point for Agee's life was when he met Wanda Hainey. They were both in drama with Dr. Wooley performing "The Diary of Anne Frank." Mike played Mr. Frank and Wanda played Mrs. Frank. Wanda and Mike spent the year together and after graduation, Mike asked her to marry him. When she said yes, it made a huge impact on his life.
With graduation, another wave of changes fell upon Agee, but this time he was ready for them.  Three years of radio experience at Southwestern and an internship at KCLE in Cleburne helped him get his first after-college job in Weatherford, Texas, and later, another radio position at Andrews University's WAUS. His experience led to an invitation to move to Idaho and help build Christian station KTSY. He stayed there as general manager for 20 years, in the meantime earning three Dove awards and a Marconi nomination.  Today you can find Agee back at the place where he got started: Southwestern Adventist University.
People that look at Agee's career path would call him successful for his accomplishments. Agee thinks of himself as successful for a different reason.
"A few years ago I would have been proud of my awards and nominations," he says. "Being noticed by peers and rewarded for it is a milestone in any career. Now I'm a little older and those things are less important. What I value the most is seeing the lives and career paths of people that worked for me and became successful. I'm proudest of the people I've impacted, and other radio stations I've helped direct.  I enjoy watching them take off and be successful as they take an idea that I've planted and do their thing.
"That's what drew me back to Southwestern, the opportunity to have an impact on young people's lives. It's not about the awards and plastic on the shelf that gets dusty, but more about the people I've come across and watched grow, prosper and be successful."
Agee's advice to student troublemakers is to "read your text books, listen to your teachers, do your homework and go to class. I've discovered that being successful at what you do is to get up and go to work, even on days when you wish you were doing anything else. It's just being persistent and continuing to discipline yourself on the day to day. That's how you make big things happen."
(edited by B. J. Mondesir) When I first got to Southwestern Adventist University, I wasn't sure what to expect. It was my first time at a private religious institution since
As the new VP for academic administration, Amy Rosenthal joins the team with a firm commitment to Seventh-day Adventist higher education.
Tristan Mikesell features the World War I exhibit in Meadows Gallery for his Photojournalism Audio Slideshow project: Share this: