Floorball Intramurals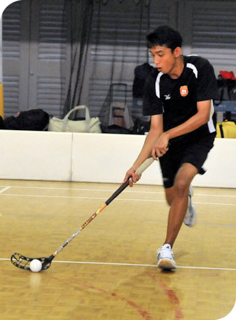 Southwestern students are invited to sign up for the upcoming Floorball intramurals. Floorball is a fast-paced type of indoor hockey, according to Vesa Naukkarinen, chair of kinesiology at Southwestern. It's also extremely safe, low-cost and easy to teach and learn. Emphasis is on speed, skill and technique rather than physical strength.   Sign ups end tomorrow, so contact the kinesiology department right away.
"Floorball is more fun and inclusive than paintball, basketball, volleyball or many other group activities," says Naukkarinen. First introduced in Sweden in the early 70s, floorball is now played in 70 countries around the world and continues to increase in popularity as more people discover this sport.
"Hockey associations are using floorball to introduce kids to hockey-like activities before they are old enough for the learn-to-skate and introductory hockey programs," he says. Naukkarinen believes that floorball is not only an ideal gateway to ice hockey, but a fun way to develop the hand-eye coordination skill set that's essential for most sports.
A stick, a ball, sneakers, shorts and a shirt are all that are needed to play floorball. The equipment design and the game rules make it much safer than regular floor hockey. Floorball sticks are shorter (waist high), round, and light weight, with a grip that's easier to control. And because they're made of fiberglass composites, they are sturdier and longer lasting.
Floorball is rapidly becoming a sports phenomenon in the United States, with teams springing up across the country, primarily on both coasts and in Texas. The sport has an annual world championship tournament, and the International Floorball Foundation hopes that floorball will be part of the Summer Olympics by 2020.
To see the action from the International Floorball Foundation, go here.
John McVay, president of Walla Walla University in Walla Walla, Washington, spoke for Southwestern Adventist University's annual convocation ceremony on Thursday, Aug. 3.  Held at the Keene Seventh-day Adventist Church,
Southwestern Adventist University and the Southwestern Union will join Share Him for a mission trip to Boyacá, Colombia on May 11-30, 2016.  For this trip, a deposit of $200 is
University President Eric Anderson and Loretta Anderson, director of Hopps museum, are among the faculty and staff to greet students at 2012 Handshake for Southwestern Adventist University on Aug. 20.