ENACTUS Seeks Volunteers to Help Build Shelter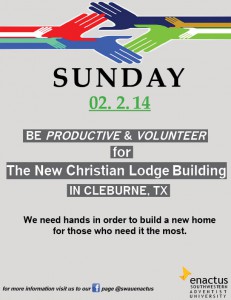 The Christian Lodge has a mission to help and support homeless citizens in Johnson County and they are constructing a new shelter in Cleburne.
On Sunday, Feb. 2, Southwestern's ENACTUS club will be meeting at the library parking lot at 12:15 p.m. They need as many volunteers as possible to help make this shelter happen.
Returning students need to be aware of new policies regarding registration that became effective yesterday, Jan. 6. If a freshman was not at STEP 7 on Portal by Sunday, that
A gospel concert is planned for this weekend's Saturday night event, Jan. 15 in Evans Hall at 7 p.m. This musical performance presents an opportunity for both Southwestern students and
For the second year in a row, Southwestern Adventist University has officially started its academic year with a service called the Mizpah Ceremony. Several hundred new students, most of who