Business Department Unveils New Information Wall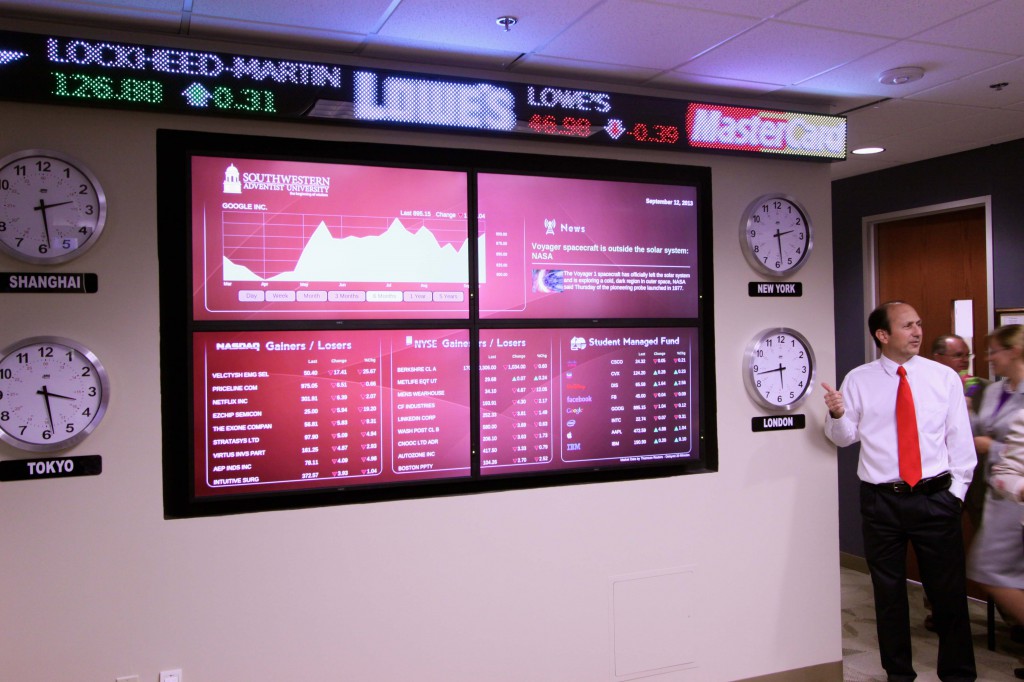 Southwestern's Department of Business Administration unveiled a new feature for their offices on Thursday, Sept. 12. An innovative, real-time business news wall now stands in the department offices in Pechero Hall.
The wall features four LCD screens with a ticker tape across the top and clocks representing four different markets in the world. The screens show world news in real time, the Dow Jones average and NASDAQ, as well as the New York Stock Exchange, allowing students to keep track of stocks in real time.
Dr. Fred Harder, chair of business administration, and Daniel Worku, instructor of business administration, visited University of North Texas last fall for a seminar and came back inspired with the project.
"We teach out of textbooks and even a brand new book and the tables in it are going to two or three years old before they come out in print," says Harder. "With this wall we help bring the real life side into teaching." Two classes, one in investments and one in fund management, are already planning to use the wall during their classes.
Along with a new business wall, the door to the department offices was replaced with glass doors. "Students are welcome to stop in and see what is going on and just look at it if and when they want," says Harder.
"This helps show that the business department is current and that we know what we're doing," says Harder.
Construction has been underway during the summer and has now been completed just last week.
At the official ribbon cutting ceremony last Thursday, students received the wall with a great wave of excitement. "I think it's really beneficial to our school. A lot of our students are actually wondering what stocks they should invest in," says Jasmine Galloway, junior international business major. "Now that they have the wall up, they'll be able to check and investigate themselves. I think it's very helpful as well as pretty."
"I think it's the nicest looking thing on campus so far," says Christian Santizo, junior accounting major. "I also like the practicality of it. I could actually use this."
Contributors for the project included Jeanine and Dick Dilts, Fred and Virginia Harder, Judith and Larry Miles, Aaron and Shawna Moses, Chanda Reins, Daniel Worku, and Dan and Joyce Zacharias. At the ribbon cutting, Harder thanked them all for their part in making the new business wall happen.
Dale Hainey, physical plant director, supervised the project with Dale Reins, director of building maintenance, doing the actual construction.
Another addition in the business administration offices is a painting that hangs on the wall to the right of the new business wall. The painting is of a business partner introducing a new senior partner, Jesus.
"Jesus is a senior partner in anything that we're going to teach you here at Southwestern," says Harder.
Southwestern Adventist University's student creative writing club, The Rough Writers, is hosting its second annual Poetry Slam on campus this Saturday night. To be held in the student lounge on
Southwestern communication students crowd around the desk of John McCaa and Shelly Slater, anchors for the five o'clock news for WFAA Channel 8 in Dallas. Students had the opportunity to
Southwestern students, faculty, and staff said farewell to Dr. Randy Gilliam, professor of education, at a special reception yesterday afternoon. He has been a member of the Southwestern Adventist University