Barn Bash Slated for Oct. 9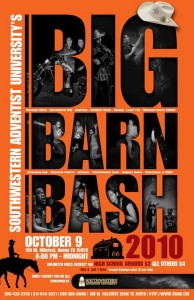 Southwestern's annual Barn Bash is scheduled for this Saturday, Oct. 9 beginning at 8 p.m. Sponsored by the Student Association, this year the event will be held on the University campus.
Featured events include carriage rides, a mechanical bull, a hay ride, a chopper show, boxing, laser tag, a dinosaur bones exhibit, a wrecking ball, obstacle course, animals, international food, a Knights game and many giveaway prizes.
Activities will continue from 8 p.m. to midnight. Admission is free for Southwestern students with ID card. High school seniors are $2 and all others are $4. Everyone is invited.
In high school, Jae-Min Park felt he wanted to be a doctor but wasn't sure if it was the right career for him. His parents inspired him to study medicine.
Storyteller Dick Duerksen will speak for assembly at tomorrow's University Assembly at 1 p.m. Duerksen has the official title of storyteller for his work for Maranatha International. His home is
The critically acclaimed Madera Wind Quintet will perform at Southwestern Adventist University on Tuesday, Jan. 18 at 7 p.m. in Wharton Auditorium. The Madera Wind Quintet was established in the