9/11 Survivor Speaks for Scholars Lecture Series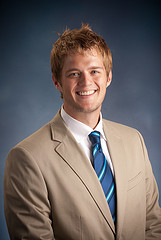 Students, faculty and friends of the University are invited to come to the Scholars Lecture Series presentation in the Wharton Auditorium on Thursday, Jan. 17 at 7:30 p.m. It will be presented by Dr. Nathan Harness, coordinator of international studies and assistant professor of finance at Texas A&M University of Commerce. Harness was in one of the Twin Towers in New York City when the terrorist attack occurred on Sep. 11.
"For students of this generation, the 9/11 terrorist attacks are the equivalent of what the Kennedy assassination was to my generation," says Dr. Judy Laue, Southwestern English professor at Southwestern and coordinator of the series. "September 11 changed the American world view. Everyone remembers where they were when they heard the news. Thus, hearing the story from someone who experienced the attack first-hand helps us to understand a critical moment in America."
The title of the lecture is "September 11th: A Story of Survival and Hope." After the lecture is given, the audience will be given the opportunity to ask questions.
(Edited by Brisa Ramirez and Jaime Baldwin) Acrofest will occur November 13 to 15 this year. This event is open to gymnastics teams from Seventh-day Adventist academies and universities. The location changes
The ninth annual Resurrection Pageant portraying the last week in the life of Jesus including His trial, His Crucifixion, and His Resurrection will be presented by Southwestern Adventist University, the
Southwestern Adventist University's TV station, KGSW, recently received a new antenna.  The entire TV station will be updated with new equipment so that it can broadcast digitally.  This is the