Students Begin Work on "A Comedy of Errors"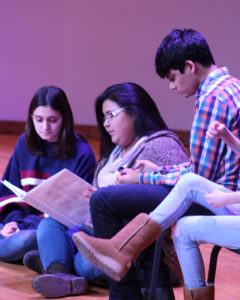 (Presented by Julena Allen, Musa Nkosi and Lance Holtzclaw)
Southwestern's department of English will enact "The Comedy of Errors" a comedic play written by Shakespeare on April 11-14 in Wharton Auditorium. The story is about two sets of twins who were separated at birth during a shipwreck. The play recounts the journey of how these four twins discover and find each other. Directed and adapted by English professor Kristin Denslow, the play has been modernized into the 20th century, taking place in 1960 Miami.
Southwestern Adventist University is ahead of the game, the floorball game to be specific. Floorball is a sport comparable to floor hockey. It's quickly gaining popularity in the United States.
Tristan Mikesell features the World War I exhibit in Meadows Gallery for his Photojournalism Audio Slideshow project: Share this:
Last year, Guadalupe Williams was Union College's Student Body president. This year, she is Southwestern's newest enrollment counselor.