Students Begin Work on "A Comedy of Errors"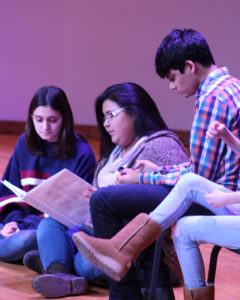 (Presented by Julena Allen, Musa Nkosi and Lance Holtzclaw)
Southwestern's department of English will enact "The Comedy of Errors" a comedic play written by Shakespeare on April 11-14 in Wharton Auditorium. The story is about two sets of twins who were separated at birth during a shipwreck. The play recounts the journey of how these four twins discover and find each other. Directed and adapted by English professor Kristin Denslow, the play has been modernized into the 20th century, taking place in 1960 Miami.
One has been writing for 40 years; the other has hardly started. One wrote a book about brain injury; the other suffered from it. One is a word person; the
Even though the new VP for Spiritual Development at Southwestern is no stranger to Keene, or to many people on campus, his ideas are new.
Few days remain in the semester, and it's time for ESL students to receive their diplomas. Another hard semester has passed and all hope to finish strong. The ESL Program