Students Begin Work on "A Comedy of Errors"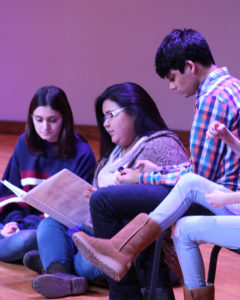 (Presented by Julena Allen, Musa Nkosi and Lance Holtzclaw)
Southwestern's department of English will enact "The Comedy of Errors" a comedic play written by Shakespeare on April 11-14 in Wharton Auditorium. The story is about two sets of twins who were separated at birth during a shipwreck. The play recounts the journey of how these four twins discover and find each other. Directed and adapted by English professor Kristin Denslow, the play has been modernized into the 20th century, taking place in 1960 Miami.
Peter Choque, sophomore nursing major, felt called from God to come to Southwestern and he's glad he answered. Growing up in Keene, Choque went to Keene Adventist Elementary School and
It's the time of the year when students of Southwestern Adventist University are trying to ram everything that they've learned from the beginning of the semester into their brains so
An invitation to teach a Sabbath school class at Southwestern led Dustin Serns to a lifetime of serving others.