Students Begin Work on "A Comedy of Errors"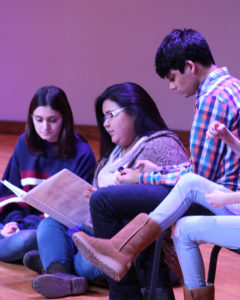 (Presented by Julena Allen, Musa Nkosi and Lance Holtzclaw)
Southwestern's department of English will enact "The Comedy of Errors" a comedic play written by Shakespeare on April 11-14 in Wharton Auditorium. The story is about two sets of twins who were separated at birth during a shipwreck. The play recounts the journey of how these four twins discover and find each other. Directed and adapted by English professor Kristin Denslow, the play has been modernized into the 20th century, taking place in 1960 Miami.
Nursing students provide a health clinic each year in the Dominican Republic. This year, Southwestern's Enactus team will join them as an extension to the mission trip. Enactus is an
Even though the new VP for Spiritual Development at Southwestern is no stranger to Keene, or to many people on campus, his ideas are new.
It's not easy for students to manage schoolwork and extracurricular activities and still find time for worship, but it's necessary. Considering the time challenges that students face, Southwestern provides many