Students Begin Work on "A Comedy of Errors"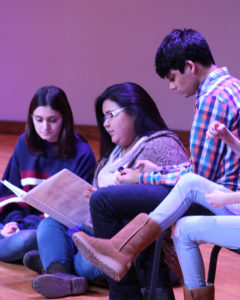 (Presented by Julena Allen, Musa Nkosi and Lance Holtzclaw)
Southwestern's department of English will enact "The Comedy of Errors" a comedic play written by Shakespeare on April 11-14 in Wharton Auditorium. The story is about two sets of twins who were separated at birth during a shipwreck. The play recounts the journey of how these four twins discover and find each other. Directed and adapted by English professor Kristin Denslow, the play has been modernized into the 20th century, taking place in 1960 Miami.
As part of Southwestern's ongoing Quality Enhancement Plan (QEP), all seniors now complete a capstone class and a digital portfolio to demonstrate proficiency and accomplishment in research, writing, critical thinking,
(edited by Jalen Wells) Tyler Woolridge became the director of facilities and athletics for Southwestern Adventist University in July 2018 after graduating from SWAU with a degree in Exercise Science.
Whether on a mission trip, family vacation or working, travel is a big part of who Kerrie Kimbrow is. And as a new nursing professor, she shares that joy with her students.