Student Week of Prayer Set for Next Week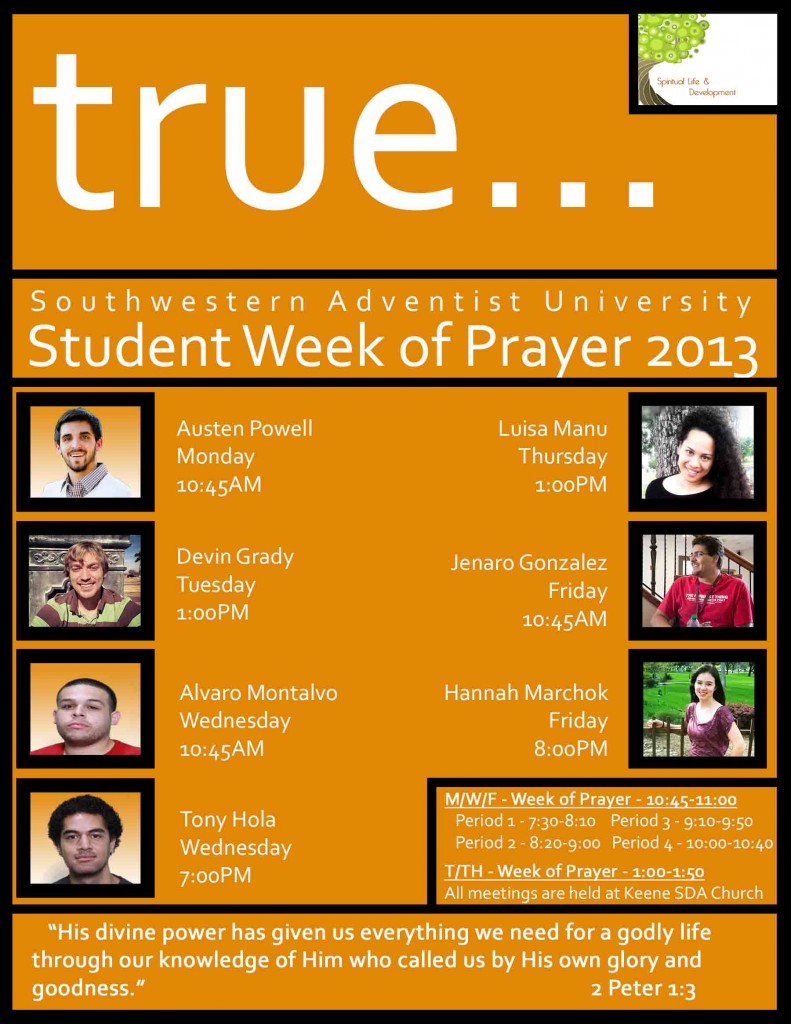 Southwestern's Student Week of Prayer is scheduled for next week. On Monday, Wednesday, and Friday it will be held from 10:45 to 11:30 a.m. in the Keene SDA Church. On Tuesday and Thursday, meetings are scheduled for 1 to 1:50 p.m.
There will be a Wednesday night meeting at 7 for those who wish to go to a midweek meeting and Friday night worship will be at 8 p.m.
The class schedule will be the same as it was during fall semester's Week of Prayer:
Period one:      7:30-8:10 a.m.
  Period two:     8:20 – 9:00 a.m.
      Period three:   9:10-9:50 a.m.
  Period four:   10:00-10:40 a.m.
The students speaking are Austen Powell, freshman theology major; Devin Grady, junior theology major; Alvaro Montalvo, junior theology major; Tony Hola; Luisa Manu, freshman theology major; Jenaro Gonzalez, freshman computer science major; and Hannah Marchok, junior education major.
Southwestern's music department will host a student recital tomorrow evening in the Wharton Auditorium at 7. The recital will feature both voice and instrumental with a mix of different genres.
Eight communication students from Southwestern Adventist University will fly to Loma Linda University April 6-9 to be a part of the annual SONscreen Film Festival. SONscreen Film Festival is conducted
Every spring break for 18 years Southwestern's nursing department has gone to the Dominican Republic for their mission trip. Several nursing students are returning this year, along with their instructors.