Student Week of Prayer Set for Next Week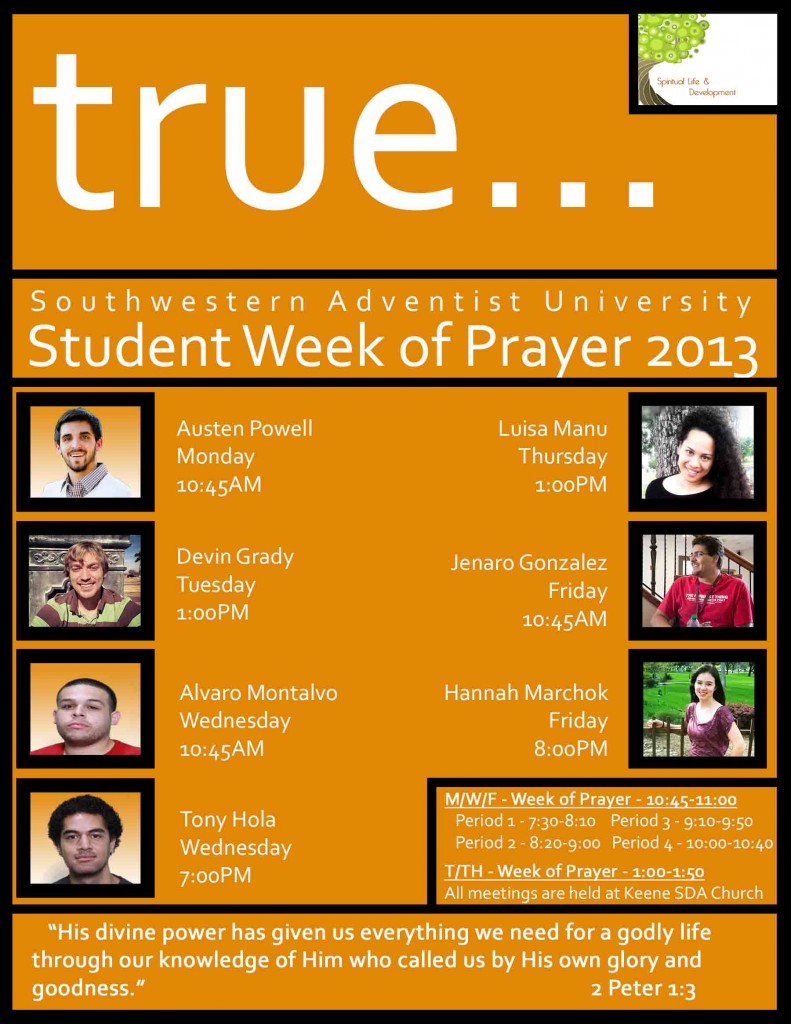 Southwestern's Student Week of Prayer is scheduled for next week. On Monday, Wednesday, and Friday it will be held from 10:45 to 11:30 a.m. in the Keene SDA Church. On Tuesday and Thursday, meetings are scheduled for 1 to 1:50 p.m.
There will be a Wednesday night meeting at 7 for those who wish to go to a midweek meeting and Friday night worship will be at 8 p.m.
The class schedule will be the same as it was during fall semester's Week of Prayer:
Period one:      7:30-8:10 a.m.
  Period two:     8:20 – 9:00 a.m.
      Period three:   9:10-9:50 a.m.
  Period four:   10:00-10:40 a.m.
The students speaking are Austen Powell, freshman theology major; Devin Grady, junior theology major; Alvaro Montalvo, junior theology major; Tony Hola; Luisa Manu, freshman theology major; Jenaro Gonzalez, freshman computer science major; and Hannah Marchok, junior education major.
Today's assembly is a focus group discussion on students' thoughts and feelings about Southwestern. Below is a list for assigned buildings. Note that there is a maximum group size of 15.
(Edited by Judy Yong and Herman Aguilar) With the installation of its new tower and antenna, 88.3 The Journey is now broadcasting a stronger, clearer signal than ever before, reaching