Student Week of Prayer Set for Next Week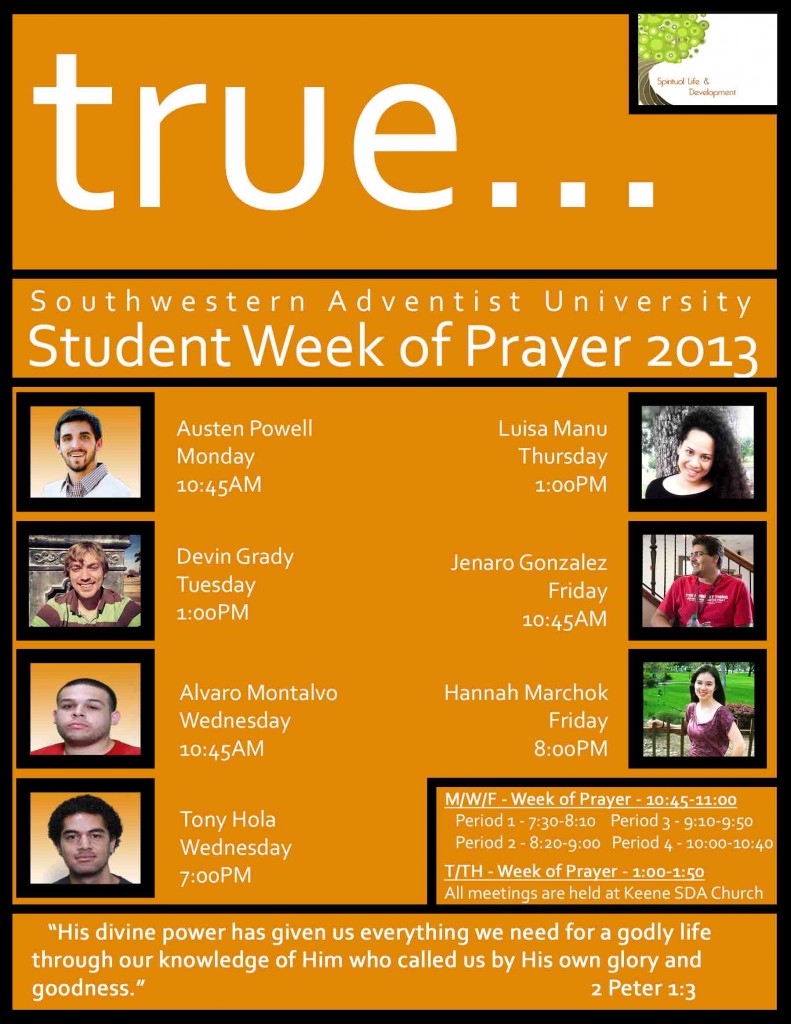 Southwestern's Student Week of Prayer is scheduled for next week. On Monday, Wednesday, and Friday it will be held from 10:45 to 11:30 a.m. in the Keene SDA Church. On Tuesday and Thursday, meetings are scheduled for 1 to 1:50 p.m.
There will be a Wednesday night meeting at 7 for those who wish to go to a midweek meeting and Friday night worship will be at 8 p.m.
The class schedule will be the same as it was during fall semester's Week of Prayer:
Period one:      7:30-8:10 a.m.
  Period two:     8:20 – 9:00 a.m.
      Period three:   9:10-9:50 a.m.
  Period four:   10:00-10:40 a.m.
The students speaking are Austen Powell, freshman theology major; Devin Grady, junior theology major; Alvaro Montalvo, junior theology major; Tony Hola; Luisa Manu, freshman theology major; Jenaro Gonzalez, freshman computer science major; and Hannah Marchok, junior education major.
88.3 The Journey celebrated its one-year anniversary on Nov. 17. Grateful for Gods blessings throughout the first year, they decided to find a way to give back to the community.
The film "Gandhi" will be shown on Saturday, Jan. 22 at 6:30 p.m. in Wharton Auditorium. The film is being presented as part of the Classic Film Series sponsored by
Matthew Howerton, Keene resident and friend of Southwestern Adventist University, is one of two community members to be chosen to donate bone marrow as part of the DKMS Delete Blood