Women's Soccer Begins on Monday, Aug 29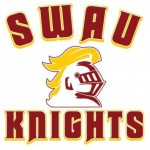 The Southwestern Adventist University women's soccer team will have its first game on Monday, Aug. 29 at 6 p.m. It will take place at Callicott Park soccer field across Old Betsy from the campus.
There is still time to try out for the soccer team. Contact Miguel Espinosa, the team's coach, at (817) 202-6289 or espinosam@swau.edu for more information.
Monday, Aug. 29, 6 p.m. at Keene vs. Waykland Baptist Univ. JVs
Sunday, Sept. 11, 1 p.m. at Keene vs. West Texas College JVs
Wednesday, Sept. 14, Wednesday at Mesquite vs. Eastfield College
Thursday, Sept. 15, Thursday 3:30 p.m. at Dallas vs. Dallas Christian College
Tuesday, Sept. 27, Tuesday 7 p.m. at Keene vs. Dallas Christian College
October 12, Wednesday 7:00 at Keene Vs. Eastfield College
October 23, Sunday 1:00 at Snyder vs. West Texas College JVs
Southwestern Adventist University's third annual tennis tournament is Sunday, Sept. 30 at 2 p.m. The tournament will take place at the Callicott Student Park. All students are invited and
This is the last week for women's volleyball, soccer and men's soccer games. The Southwestern family is encouraged to support all student athletes. For the volleyball team, the last
The ladies' volleyball, ladies' soccer and men's soccer teams are looking forward to seeing your school spirit this week at their upcoming games. Ladies volleyball has two home games at