Tyler Woolridge Serves as New Director of Facilities and Athletics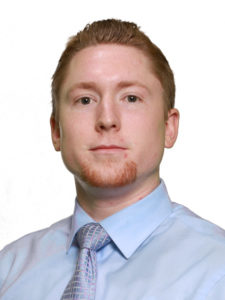 (edited by Jalen Wells)
Tyler Woolridge became the director of facilities and athletics for Southwestern Adventist University in July 2018 after graduating from SWAU with a degree in Exercise Science.
As director of facilities and athletics, he oversees all the athletic facilities on campus and their student workers, to include the gym, the tennis courts, the soccer fields, and also the pool. Woolridge is also heavily involved in all sports on campus and oversees all athletics as he communicates with other coaches and athletic directors about scheduling. With his new responsibilities, Woolridge has many goals for SWAU's athletic programs and he plans to continue guiding the school in the positive direction it's currently going.
Tyler Woolridge played intercollegiate basketball as a student at Andrews University before transferring to Southwestern. Upon graduation, he worked at SWAU's enrollment department as a part-time telemarketing director before becoming a full-time recruiter in January, 2016. During the 2014-2015 school year, Woolridge helped out the women's basketball program by assisting the coach as a student, and after continuing to assist for two more years, he became the head coach for both the men's and women's basketball teams last year.
"I've always wanted to work in athletics," says Woolridge. "I love athletics. It's something I want to be around. I love playing, I love coaching, I love being around sports and all things related to athletics. This has been a dream for me: to make this into a career."
Even while working in enrollment, Woolridge was involved in athletics because he wanted to be a part of sports. When the job position opened he says it was a "no-brainer" for him to apply.
"I think athletics play a very important part in a student's development because they have many life lessons to teach. That's something my high school coach taught me," he says. "I think that things like punctuality, competition, teamwork, perseverance; there's a lot of things that you learn through athletics that you can apply to your daily life. And in terms of development as a person, I believe those lessons help you in your day-to-day life. And I think that athletics played a huge role in my development as a person and my maturity level and things I was able to learn through them."
Woolridge says he thinks that being both a coach and an athletic director coordinate really well. He's dealing with athletics for both but there are times that having both jobs simultaneously becomes a conflict. Coaching both men and women's basketball is a struggle within itself and combined with trying to stay on top of the other sports it can be hard to juggle at times but overall, they do coordinate well together. The biggest issues revolve around event schedules, because as a coach he's not always here on campus as he has to travel with the team, and that can create challenges with being able to make sure everything is being run efficiently and watching over everything that is going on with the other athletics such as volleyball and soccer.
"I think that as a coach you're always geared towards winning," Woolridge says. "I think the competitive side and aspect of our school program's performance is there and should be there, but it's not all about winning. I want to win but I'm more concerned with asking 'are the kids enjoying themselves?' 'are they going about things the right way?' 'are they representing our university the right way?' 'are we injury free?' So I think that when you're looking at a perfect athletic event, it's an event where both sides are having fun, the crowd's entertained, both teams are representing their university well, the players remain injury free, and from a coaching standpoint, there are no consequences given out to anybody and everyone staying respectful."
Southwestern Adventist University is now a part of the NCCA, National Christian College Association, which means SWAU has a dual affiliation because they are still part of the USCAA, the United States Collegiate Athletic Association. That's big for Southwestern, because it helps the school out in post-season play. The conference will know who SWAU is and see them play against nearby schools in Southwestern's division such as Arlington Baptist and Dallas Christian.
"I have a lot of goals," he says. "I think we're growing as a program year to year because for the five years that I've been in the program I've seen positive steps in the right direction. That doesn't always lead to wins and losses because wins and losses can fluctuate between talent levels, what kinds of kids you have coming into the program and ineligibility and things like that. I think our university as a whole is more supportive and I think that we have a lot of passionate people within our athletics department and student services department who are pushing our athletes forward. I think that joining the conference was a big step in the right direction, but for me, my ultimate goal is to have success. I want to win, and I want our university to be recognized and I want us to represent well and I want other schools to know who we are.
"Winning is obviously a goal as well as getting the right kids in here who represent the university well, because we have a code of conduct and we have a certain standard that we are held to. So you want students who are going to play well on the court and on the field and represent well off of it. I think that we've accomplished that and moving forward I want to continue that."
Coach Woolridge encourages all students, especially non-intercollegiate athletes, to feel welcome at all of SWAU's recreational facilities and enjoy participating in some sort of athletics.
"Our intramural program is connected in some ways to our athletic program as well. I want to encourage our entire student body to participate in our intramural program. I want to use that as an outlet as well as an opportunity to socialize with friends.
"In reference to our intercollegiate sports, I want to bring in the right students who will be ambassadors for the university on and off the playing field," he says. "I want students who will represent the university's core value. I want student athletes who want to be successful in everything they do. I want for everyone, whether it be collegiate or intramural, to feel welcomed to all of our recreational facilities and enjoy participating in some sort of athletics."
Donna Berkner, Education's newest professor, feels she "always has had a heart for Adventist education."
Most students have, at some point in their scholastic career, experienced the horrible feeling that comes from losing a valued possession on the school grounds. Jeremy Knaubert, a sophomore and