TEDx Comes to Southwestern Campus Sept. 27
Southwestern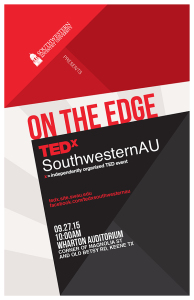 Adventist University will host the first Ted Talks event in Johnson County on Sunday, Sept. 27.
Entitled "On the Edge," TEDx will feature speakers presenting thought-provoking ideas on a variety of topics and will shed new light through innovative approaches and ideas in their areas of expertise.
This TEDx event is organized by a select group of devoted students and faculty with the intention to create a vision, inspire ideas, and promote action in the community. Southwester's goal is to present ideas that will challenge the status quo in various disciplines and areas of interest.
TEDx starts at 10 a.m. and runs to 5 p.m. in Wharton Auditorium on the corner of Magnolia Street and Old Betsy Road. For more information on this event, visit tedx.site.swau.edu or facebook.com/tedxsouthwesternau.
There's a new way for students and faculty to stay notified about on-campus emergencies. E2Campus is a program that sends alerts to the student body via text message.  Now Southwesterners
Application deadlines for Student Association have been postponed due to lack of applications received. If a student is interested in running for next year's Student Association, they can pick up
Papers fill your tiny dining room table, eliminating any sanity you might have had. How could a perfectly normal wooden table look like a snowstorm hit it? The answer is