TEDx Comes to Southwestern Campus Sept. 27
Southwestern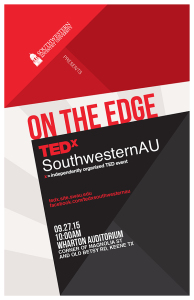 Adventist University will host the first Ted Talks event in Johnson County on Sunday, Sept. 27.
Entitled "On the Edge," TEDx will feature speakers presenting thought-provoking ideas on a variety of topics and will shed new light through innovative approaches and ideas in their areas of expertise.
This TEDx event is organized by a select group of devoted students and faculty with the intention to create a vision, inspire ideas, and promote action in the community. Southwester's goal is to present ideas that will challenge the status quo in various disciplines and areas of interest.
TEDx starts at 10 a.m. and runs to 5 p.m. in Wharton Auditorium on the corner of Magnolia Street and Old Betsy Road. For more information on this event, visit tedx.site.swau.edu or facebook.com/tedxsouthwesternau.
Southwestern Adventist University's prayer meeting theme this semester is "Drink Deep."  Dwight Nelson, senior pastor of Pioneer Memorial Church at Andrews University in Berrien Springs, Michigan, will present the series
This weekend's spiritual events include vespers, afterglow, Sabbath school, church, inreach & outreach, vespers concert, and a Young Adult Festival of Worship. Friday night worship will begin at 8 p.m.
The 120th school year at Southwestern Adventist University is off to a record start. With 167 freshmen, the class of 2017 is the biggest freshmen class since 1999.  There are