Student Missionaries Sought for Pacific Islands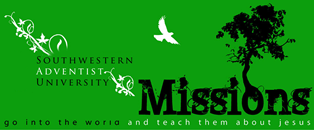 The Pacific islands are always looking for student missionary teachers for pre-k through high school. The list of openings is very long and includes different positions for teaching: Science, English, Math, Music, P.E., and Computers. Trips can be as short as three months or as long as nine months.
Some of these calls are urgent because the schools need to know their list of teachers for the next semester. Anyone interested in being a student missionary should stop by the Spiritual Life and Development office or send an email to mdepaiva@swau.edu this week.
Southwestern Adventist University's eighth annual Creative Writing Contest presents the opportunity for students to share their creative writing skills and possibly even earn money for it. Sponsored by The Rough
Tomorrow, September 17, is Constitution Day.  For well over 200 years, Americans have had the privilege to enjoy life, liberty, freedom, and prosperity. Sign up at swau.edu/alerts for historical insights (fun
Today's assembly is a focus group discussion on students' thoughts and feelings about Southwestern. Below is a list for assigned buildings. Note that there is a maximum group size of 15.