Student Missionaries Sought for Pacific Islands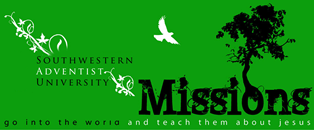 The Pacific islands are always looking for student missionary teachers for pre-k through high school. The list of openings is very long and includes different positions for teaching: Science, English, Math, Music, P.E., and Computers. Trips can be as short as three months or as long as nine months.
Some of these calls are urgent because the schools need to know their list of teachers for the next semester. Anyone interested in being a student missionary should stop by the Spiritual Life and Development office or send an email to mdepaiva@swau.edu this week.
Good afternoon Alumni, God has provided! Our CFO, Joel Wallace, officially shared with me that our total is $8,035,390! Southwestern Adventist University has been blessed by our family of alumni,
Southwestern communication students crowd around the desk of John McCaa and Shelly Slater, anchors for the five o'clock news for WFAA Channel 8 in Dallas. Students had the opportunity to
The new Larry R. Moore Nursing and Administration Building will soon be completed and is set for dedication on Tuesday, Sept. 25. With this newest edition to the Southwestern Adventist