Student Missionaries Sought for Pacific Islands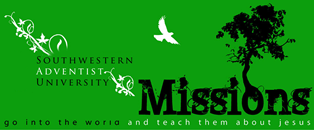 The Pacific islands are always looking for student missionary teachers for pre-k through high school. The list of openings is very long and includes different positions for teaching: Science, English, Math, Music, P.E., and Computers. Trips can be as short as three months or as long as nine months.
Some of these calls are urgent because the schools need to know their list of teachers for the next semester. Anyone interested in being a student missionary should stop by the Spiritual Life and Development office or send an email to mdepaiva@swau.edu this week.
Outreach this Saturday, April 14, will be held at Town Hall Estates Nursing Home.  Students and members of the community are invited to share communion with those who live there.
Dressed in colorful academic regalia, the faculty of Southwestern Adventist University marched into the Keene Seventh-day Adventist Church for the annual Convocation ceremony during assembly on Thursday, September 2. The
For about 20 students of Southwestern Adventist University, final exams will mark the last few days before graduation.  Fall commencement takes place on Thursday, Dec. 15. Sam Green, president of