SLAD Launches Shoebox Project for Needy Children
Thanksgiving is a time that is usually spent with family making new memories and remembering the old. For Southwestern Adventist University students this year, the weeks leading up to this holiday will look a little different than in previous years. This year, they are taking on the task of assembling 50 shoeboxes filled with items to ship throughout Texas and overseas.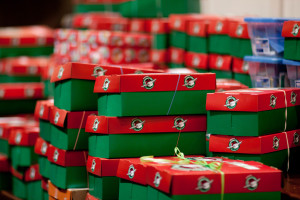 The Spiritual Life and Development Department has launched a new project called "Christmas in a Shoebox" to raise funds and collect items that will fill the shoeboxes. The gifts will go to boys and girls ages 0 to 13, distributed by two agencies, drawsmiles.com and Operation Christmas Child. The project started on Nov. 4 and will continue through Nov. 17. "Christmas in a Shoebox" is supported through two on-campus ministries: Missions Ministry, led by Melissa DePaiva, and Across the Street Ministry, led by Matthew Hanson. Both of these ministries are led by students, for students.
This co-leadership started when Hanson and DePaiva were in a SLAD meeting this past Monday, they realized that both ministries had chosen the same project for Christmas. Instead of fighting over which ministry would get to host this event, they decided to combine forces with the goal of making a larger impact. DePaiva planned to launch "Christmas in a Shoebox" on the first day of Missions Week 2015. In sticking with this plan, Hanson agreed to start his drive two weeks early with the idea that, "Starting early and combining teams will hopefully result in a better drive."
Two days before SLAD launched the Christmas in a Shoebox drive, Hanson said, "I just want people to get hyped about this project!" In an attempt to get people "hyped about this project," SLAD sent out emails, put up posters, and announced this project at events. To follow up this drive, SLAD plans to make a video to announce whether or not their goal was met.
The shoeboxes will be filled with toiletries, school supplies, and candy, and each donor is asked to write a note and wrap the shoeboxes with Christmas wrapping paper. The shoeboxes then will be shipped to locations in Mexico, Peru, Chile, Kenya, El Salvador, as well as Texas.
Although this is a different type of preparation for Thanksgiving, it is one that the students are excited about. Dominick Alipoon, a senior theology student, said "I felt nostalgic when I heard SLAD was doing a Christmas Shoebox drive. My family used to do that during Christmas time."
For more information about where the boxes will be shipped and how to participate, go to the Spiritual Life website: www.swauspirituallife.com.
Eighteen students from Southwestern have felt the call to serve God abroad as student missionaries this year. These students are spread across the globe, yet when they come home, there
An invitation to teach a Sabbath school class at Southwestern led Dustin Serns to a lifetime of serving others.
Michael Gibson thought he wanted to become an engineer, but by the time he got to his senior year of high school he decided engineering wasn't meant for him. It