SIFE Reaches to New Heights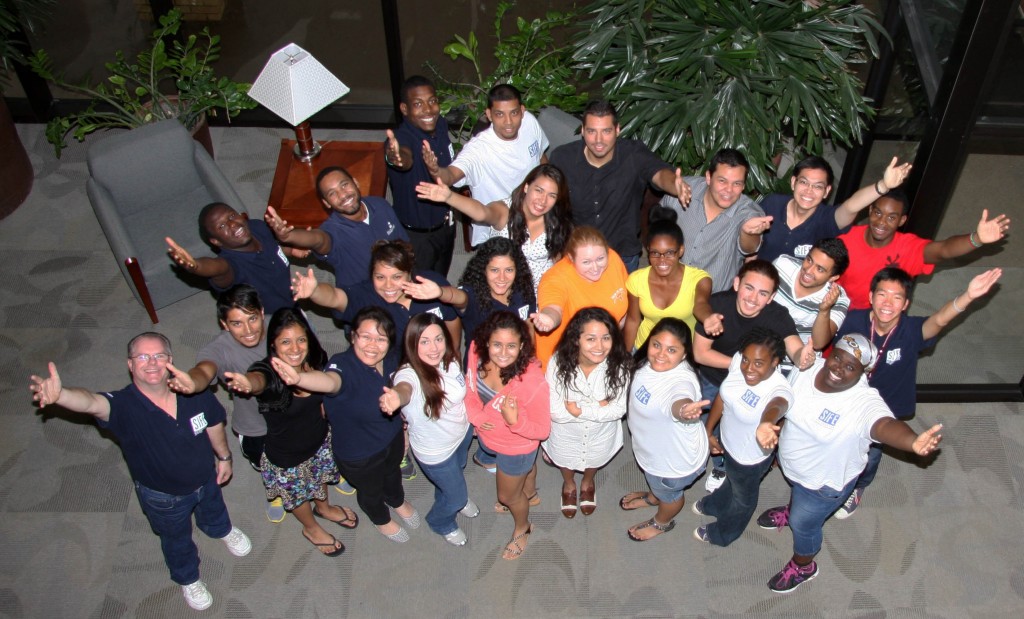 With an increased enrollment and new staff, Southwestern's SIFE (Student In Free Enterprise) team begins a new school year with hopes for a new commitment of spirit and determination.  After awarding 11 regional championships to Southwestern, the regional SIFE officials changed the criteria for the competition, requiring Southwestern to compete against larger schools. Last year was the second year this criteria was applied, but in 2011, Southwestern was fortunate to compete in an easy league and win the championship. In 2012, Southwestern's SIFE team was in a league with larger-sized teams from well-known area schools and came in second.
Success this year will require more representation from the student body, believes Tam Nguyen, this year's president of SIFE. "I'd appreciate more involvement from students with non-business majors, as they will bring a fresh perspective to the table, and have different ideas on how to solve problems." And after a special SIFE presentation at assembly on Thursday, Sept. 6, an influx of new members has Nguyen hopeful for a good year.
SIFE unites university students, academic professionals and industry leaders with the common goal of making the world a better place, and highlights the importance of business in getting this achieved.
One of the big reasons why Nguyen thinks SIFE involvement is a good idea is what it does to a student's resume. "The best time to become involved with SIFE is as freshmen and sophomore," she says. "Joining their senior year is problematic, because most people are thinking about graduation and getting their first job."
Nikki Truesdell, group leader of PR/Media adds, "My involvement in SIFE positively impacted my internship applications."
This year SIFE at Southwestern is broken down further into three teams; the first is Finance, headed by Kevin Neave and Prem Manu, PR/Media led by Nikki Truesdell and Projects with Mike Haynes in charge.
Finance is responsible for collecting funds needed to carry out projects.  PR/Media is responsible for making sure the projects portray SIFE in a positive light both on campus and in the community and document the journey for educational and competition purposes. Projects achieve the goals set out by the SIFE team which is having impact on the community in 3 aspects: economic, social, and environmental.
"This is the first time that SIFE has been broken up into different teams," says Nguyen. "Our focus is going to be on quality projects versus quantity in order to remain competitive with the larger SIFE teams."
According to Haynes, SIFE has a list of ambitious plans for this year, including a trip to the Dominican Republic. The trip will be in conjunction with Cleburne First Seventh-day Adventist Church, which plans to build a medical clinic in the area. SIFE will be assisting in the building of this facility, while accessing how they can be of service to the community as a whole.
One of the projects being considered by SIFE is a city beautification program for Keene. This will be a long-term project as the goals are too numerous to be achieved in one year. There is already interest from the business sector in this program, and a number of ideas have been brought to the table. The beautification of the city should attract more business and financial opportunities and in so doing also benefit the University with more students.
For more information on SIFE, contact Tam Nguyen at sife@swau.edu, or sponsor Aaron Moses (ext. 6771). SIFE also has a Facebook Page and students are encouraged to visit.
It's not easy for students to manage schoolwork and extracurricular activities and still find time for worship, but it's necessary. Considering the time challenges that students face, Southwestern provides many
Most students have, at some point in their scholastic career, experienced the horrible feeling that comes from losing a valued possession on the school grounds. Jeremy Knaubert, a sophomore and
(edited by B. J. Mondesir) International Student Club (ISC) was founded by Henry Huynh, a Vietnamese international student currently enrolled at Southwestern Adventist University. ISC's mission is to encourage the