Service Day Scheduled for This Friday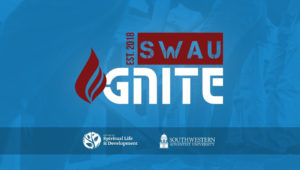 Southwestern Adventist University will host its second annual service day on Friday afternoon, March 29. Students will be going out in various groups to serve the community in Keene and throughout Johnson County.
One reason to have service day is to get students, faculty, and staff more involved in serving others within the community and outside our community. According to Samson Sembeba, senior theology major, the purpose of service day is to build the student-teacher relationship with each other so they can work together to serve the community. That is the heart of the gospel.
"I feel like there is a lot behind service day, because there is also an element that service softens the heart for the gospel," says Sembeba. "We're not only doing that for the community, but we're doing that for ourselves. When we do service work, we're softening our hearts for the gospel, and prepare our hearts to receive the gospel."
The classic film "The African Queen" starring Humphrey Bogart and Katharine Hepburn, and directed by John Huston, will be presented on Jan. 21, at 6:30 p.m., in Wharton Auditorium.  This
Guest tenor Javier Gonzalez, joins baritone Jonathan Wall for a faculty recital in the Wharton Auditorium tonight at 8. They will be performing opera arias, Zarzuela, folk music, and tenor
Southwestern Adventist University professor Glen Robinson will host a book signing this weekend at the Texas Adventist Book Center in Keene. The book signing is scheduled for Friday from 1