SA Election Is Looking for A Few Good Men…and Women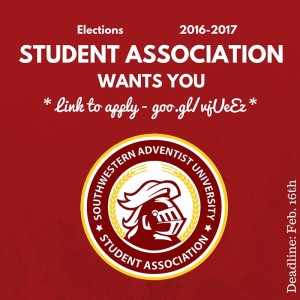 Do you want more input into social events at Southwestern? Maybe you've always wanted the opportunity to share your creative ideas for students.
Why not submit your name for consideration to become a Student Association officer for the 2016-2017 school year? Student Association will be accepting applications for students who want to become Student Association officers until Tuesday, Feb. 16.
Positions you can apply for include President, Executive Vice President, Social Vice President, Status Editor, Financial Vice President, Mizpah Editor, Ministries Vice President and Public Relations Director.
"Being part of SA is a great way for students to showcase their ideas on how to make social events more exciting for students, and it also allows students to build their leadership skills," says Heidi Dart, this year's SA pubic relations director.
"You must have passion for the student body, be flexible, and share your ideas in a polite way," says Abel Mims, SA executive vice president.  "Being persistent and goal oriented is very important when forming part of the Student Association."
The new officers will be elected on Thursday, Feb 25 during assembly. You can apply by going to https://goo.gl/vjUeEz.
Star Fest is an opportunity for the Keene community to come together and enjoy food, games, and entertainment. It is hosted by the Keene fire department and takes place annually
Freshmen and those participating in CORE will be on hand this weekend to enjoy spiritual activities scheduled throughout the Sabbath. CORE Vespers, led by the Spiritual Life and Development office,