Lectures on Holocaust, AIDS Scheduled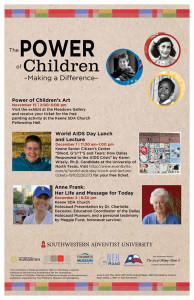 Southwestern Adventist University, in conjunction with National Endowment for the Humanities (NEH) on the Road, Humanities Texas and others, is presenting two lectures today and tomorrow.
The first event will be a lunch/lecture today from 11:30 a.m.-1 p.m.  Entitled "Blood, Guts and Tears: How Dallas Responded to the AIDS Crisis," the lecture will be presented by Ph.D. candidate Karen Wisely at the Keene Senior Citizen Center.
Tomorrow at 6:30 p.m. at the Keene Seventh-day Adventist Church, Dr. Charlotte Decoster, Education Coordinator of the Dallas Holocaust Museum will speak on "Anne Frank: Her Life and Message for Today, a Holocaust Presentation." In addition, Maggie Furst, will talk about her experience as a Holocaust survivor through the Kindertransport movement.
Both of these events are free to the public.
After nine years as president of Southwestern Adventist University, Eric Anderson announced yesterday his intention to retire.  Speaking to a regular meeting of University faculty and staff, Anderson said, "My
James The now serves as Southwestern's new Dean of Students.