Knights Sports This Week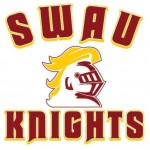 Knights Club Sports schedule for week of November 8 – 11:
Monday, Nov. 8, 7:30 p.m.           Knights at Eastfield College
Wednesday, Nov. 10, 7:30 p.m.         Knights home vs. Brookhaven College
Thursday, Nov. 11, 6 p.m.         Lady Knights home vs. Texas College
Remember: "Texas Royal Pizza Shoot-out" during half time of all home games.
Monday, Sept. 17 8 p.m. Burns N Rocks vs. P.H.A.T. 8:45  Won Kick Wonders vs. Geek Factor Share this:
Playoffs for Futsal and Floor Hockey intramurals will take place this week. Hockey playoff games are scheduled for Monday and Wednesday. Here is Monday's schedule: 7 p.m. – Nursing vs.
Southwestern Adventist University's soccer and volleyball teams are facing another full week of games. Ladies soccer will play Eastfield College tomorrow, Wednesday, Sept. 14. The team leaves the Leiske-Pultar Gymnasium