Joshua Church To Host Computer Clinic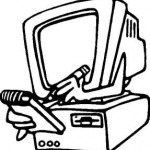 A free back-to-school computer clinic is being held on Sunday, August 28 from 1 to 6 p.m. at the Seventh-day Adventist Church in Joshua. Hosted by the Joshua Church, this clinic is for Johnson County students and their families.
The tech team will offer computer clean ups and optimization, virus removal, malware/adware removal and troubleshooting software errors. Memory upgrades or other hardware repairs will not be offered. They ask that the computer you bring is able to turn on and at least start to boot up. Reservations are required, so call in advance for this free opportunity at (817) 506-1291.  The clinic is being held at the Joshua Church gymnasium at 1912 Conveyor Dr. in Joshua.
            Southwestern's very first Parents' Weekend is scheduled for Nov. 1 and 2. This event consists of vespers, meeting University President Eric Anderson, departmental Sabbath schools allowing parents to meet
Sharathon is a fundraising event held twice a year to support 88.3 The Journey and continue its operation. Listeners are allowed to come to the station during the week and