Intramural Playoffs Set for This Week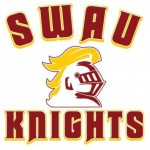 Playoffs for Futsal and Floor Hockey intramurals will take place this week.
Hockey playoff games are scheduled for Monday and Wednesday. Here is Monday's schedule:
7 p.m. – Nursing vs. Team Awesome
8 p.m. – Faculty vs. Ice Masters
9 p.m. – Winner of 7 p.m. game vs. Social People
Wednesday's schedule:
8 p.m. – Championship
The Futsal playoff games will be played on Sunday, Tuesday and Thursday.
Sunday's schedule:
7 p.m. – Scrubs v. Santos
8 p.m. – Off Constantly vs. Unknown
9 p.m. – Estudiantes vs. Black Stars
Tuesday's schedule: Men's and Women's Semifinals
Thursday's schedule: Men's and Women's Championships
The Southwestern Adventist University women's soccer team will have its first game on Monday, Aug. 29 at 6 p.m. It will take place at Callicott Park soccer field across Old