Free Business Seminars Will Help Students Learn to Handle Cash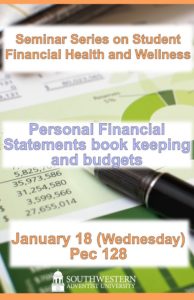 The future is scary. No one knows what will happen and how life will play out. But it's always wise to take some precautionary measures and prepare yourself for anything that will come your way, especially when it comes to money.
Southwestern is giving students that opportunity by providing free seminars for students and faculty to better prepare them for their financial security. In addition to the BUAD 120 Personal Finance class being offered this year, Southwestern is providing seminars by professional on personal financial statements, taxes, life/ health insurance, using credit/ consumer loans, and other topics.
Each of the seminars will be held in Pechero Hall on various dates. Starting tonight at 6, the seminars will continue till the end of year with the last one offered on May 10.
The purpose of these seminars is to teach students how to manage their finances keep from getting overwhelmed through lack of planning. Seminar will be presented by a variety of individual and the topics are independent of each other. According Dr. Aaron Moses, chair of the business administration department, each seminar is independent of any class and any student or faculty is welcomed to stop by and learn a few tips on how to make proper financial choices.
The first seminar begins tonight in Pechero Hall, Room 128 at 6 p.m. and is being presented by Tom O'Neil, president of First Financial Bank in Cleburne. He will discuss personal financial statements, bookkeeping and budgets. The public is invited.
Alexej Muran, classical guitarist and alumnus of Southwestern Adventist University, will present a concert on Thursday, Oct. 6.  It will take place at the Wharton Auditorium in the Mabee Center
It's another school year for Southwestern, and students are milling onto campus ready to begin the semester and experience a fantastic school year. To start the semester right, the school
The Southwestern Adventist University Enactus team, in partnership with Pinnacle Bank, Starbucks and Wal-Mart, is taking part in Spoons for Change, a program dedicated to women of all ages to