First Assembly To Feature SSI Focus Groups
Southwestern's first assembly of the semester will feature the Student Satisfaction inventory this Thursday. The SSI is a national survey taken by college and universities across the country to provide information about student's experiences on their perspective campuses. Students took the SSI last semester, and now administration was to follow that up via focus groups.
Each focus group is made up of students who will discuss their feelings about student life at SWAU. Positive input as well as negative is accepted and appreciated. This will help improve the overall quality of the student experience at SWAU.
Each student needs to attend assembly at different locations according to their major. A list of each major and location is provided below.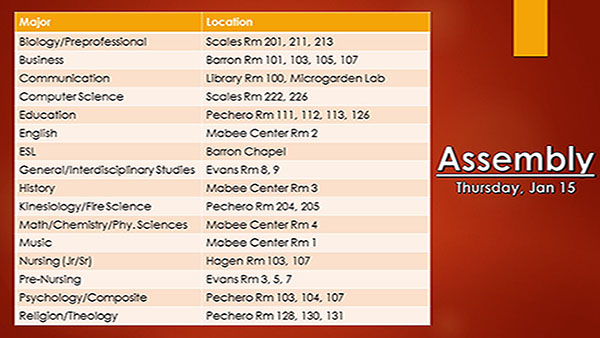 Graduation weekend at Southwestern Adventist University is scheduled for Friday, May 4 until Sunday, May 6. Friends and family are invited to help celebrate their graduate's journey. Seniors will receive
Buses for the Student Association's weekend event will leave at 8:30 p.m. in front of the library. Students must bring their student I.D. for a free drink and a pizza