Financial Health Seminars Focus on Helping Students Save Money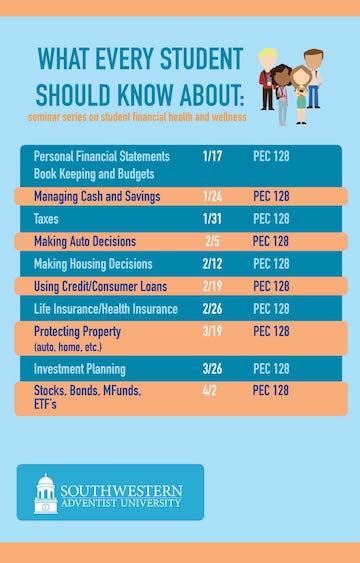 Most students don't take their financial health into consideration until their debts and loan payback are staring them in the face. Students don't often get the chance to learn about other necessary parts of adulthood such as how to file their taxes, how to buy a car, or even the importance of life insurance.
These subjects and more will be the topics of discussion at the Financial Health and Wellness Seminar hosted by Southwestern and in conjunction with the Business Administration Department's Personal Finance class. Everyone is invited to attend the seminars, not just students who are registered for the class. These seminars start tonight and will continue throughout the semester.
These seminars are meant to provide students with concrete knowledge that they can take with them beyond the campus after they graduate. "Every one of the seminars we are having are going to include topics that pertain to student financial life that they can use," says Dr. Aaron Moses, seminar coordinator and Personal Finance professor.
Each seminar will be presented by a different person, but they will always be hosted in Pechero Hall Room 128. The first of these is tonight, Jan. 17 at 6 p.m. and will cover personal financial statements, bookkeeping and budgets.
Look for the complete schedule of dates with each seminar in the box next to this article.
A gospel concert is planned for this weekend's Saturday night event, Jan. 15 in Evans Hall at 7 p.m. This musical performance presents an opportunity for both Southwestern students and
When Hurricane Harvey made landfall on the city of Houston on Aug. 26, disaster relief efforts were already beginning 253 miles to the north in Keene, Texas. Adventist Community Services,
Southwestern Adventist University's English Department presents Shakespeare's Twelfth Night. Directed by English Professor Renard Doneskey, with cast and support provided by Southwestern students and faculty, the play will be sure