Final Knights Game Is Announced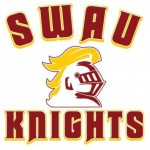 The Knights Basketball team will host the Southwestern Assemblies of God basketball team in Leiske-Pultar Gymnasium at 7 p.m. tonight.  This is the final game of the Knights Sports Program for this year.  Come and cheer the Knights on to victory.
As usual, the Royal Texas Pizza Shoot-out will take place during the half-time.
Kailani Stowell, sophomore nursing major, works with Christopher Rosado, junior physical education major, as they practice their moves on the mat. Stowell and Rosado practice their routine about 3 1/2